Our Two Favorite Face Scrubs For Dewy, Radiant Skin This Spring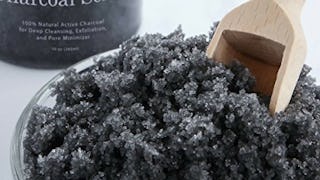 Amazon
That moment in spring has arrived that tells me my regular exfoliating cleansers aren't doing the trick. My skin is dull, my pores are huge, and my makeup goes on like my face is three coats of chalk paint into becoming a shabby chic armoire. It's time to break out the industrial sandblasters and get my skin ready for dewy foundation and minimal makeup.
I try to exfoliate several times per week in addition to using a daily cleanser to remove makeup, dirt, and oil. On the days you exfoliate, try to stay away from strong masks or other irritants. And be sure to finish up with a serum and moisturizer since your skin will be ready to suck up all the nutrients and hydration it can get.
Brooklyn Botany's Charcoal Scrub is messy but worth it. The dead sea salts in the scrub exfoliate dead skin while leaving skin feeling moisturized and nourished. And while a little more work goes into washing the activated charcoal off of your skin, it's a powerful ingredient that helps to bring any excess gunk in your pores to the surface. Blackheads become easier to remove and pores are minimized, leaving you less prone to future breakouts.
If you're looking to try something more high-end, Fresh's Sugar Face Polish feels decadent and is hugely popular. It's both an exfoliator and a mask, so once you massage it into cleansed, moist skin, you can let it sit for 10 minutes before removing. The brown sugar in the scrub gently buffs skin, making it easier for vitamin C and antioxidants from strawberries to be absorbed. Various citrus oils tone the skin, restoring its pH levels before being rinsed off. Skin is left feeling moisturized, conditioned, and radiant. While this scrub is pricey, it is offered in two sizes so you can try it out before fully committing to it.
No matter what you end up going with, exfoliating your skin is key to making sure your products are absorbing properly and priming your skin for makeup. Hopefully, everyone is taking all necessary steps in sun protection, but should you get burnt, you'll be less likely to peel. Be sure to stay extra vigilant with the SPF when you're bringing your freshly exfoliated face outdoors.
This post contains affiliate links, which means we receive a small portion of the sale if you make a purchase using these links.
This article was originally published on