Don't Write Off Skype And FaceTime Sex — It Can Be Super Hot Too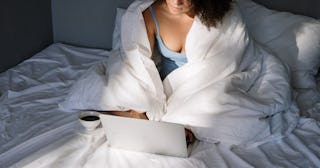 cottonbro/Pexels
Ask anyone who has been in a long-distance relationship over the past decade or so, and they'll probably sing the praises of video chat sex. Especially during this pandemic, keeping this kind of intimacy virtual isn't a bad idea at all. It may be, although we hope not, the way future relationships are formed and developed. Between social distancing, quarantining and masks, video sex may be our best and only option. We are not saying that that it's the same as actual sex. Of course it can't hold a candle to The Real Thing, but adding the visual component to phone sex has been a game-changer.
We are beyond phone sex and you can show your partner everything. And we mean everything… Now that we're to the point of everyone basically carrying around their own webcam at all times (remember the ones you had to buy separately and then clip to the top of your monitor?!), virtual video sex is something anyone can do, whether their partner is in the next room, halfway around the world or quarantining after returning from a state with high COVID-19 infection rates. If you've wanted to give it a try but wasn't sure where to start, here's how to have intimate virtual sex, because it is definitely possible.
Pick the Right Platform
Not all video conferencing services provide the same level of protection — not to mention the fact that several (Facebook, Instagram, Zoom, Google Hangouts, and yes, Skype) have policies against nudity. Instead, stick with FaceTime if you can because it is encrypted from end-to-end. If this isn't accessible, there's also an app called Signal, which offers the same level of protection.
Pick a Time
As amazing as spontaneous sex can be, video sex is a little different because you're not in the same location. So if you want to surprise your partner with a mid-afternoon topless video chat, and they happen to answer at work or in basically any situation where they're not alone, that would not be ideal. Being spontaneous and crazy is usually a great idea, but you don't want to accidentally share that with your partner's boss or clients. To get around this, set a time for FaceTime sex, so all parties are able to get in the right mindset (and location) and carve out the time they need to enjoy themselves. If you happen to live in different time zones, definitely keep this in mind when scheduling.
Get a Preview of What You'll Look Like
Virtual video sex is an option at every stage of a relationship — which means that you may be to the point of being fine with your partner seeing you in sweats and your hair in a messy top knot. Or you could just be starting out and want to make sure you look as hot as you feel in the video. To figure out what you'll look like to your partner, just open FaceTime or use the selfie mode of your phone's camera to get a preview. If lighting is important to you, now's the time to perfect it. Not to mention that when it comes to video sex, angles matter, so it may be a good idea to experiment with a few different camera positions.
Get Comfortable
You should absolutely love your body. Whatever flaws you can find are just a product of the patriarchy. And the person you're about to have video sex with? They *clap* already *clap* dig you. But, self-confidence is easier to preach than to live. If you're about to embark on your very first (or third) round of Skype sex, know that you don't need to be butt-assed naked in order to please your partner.
A positive sexual partner will be into video sex with you no matter what. If you're getting off, they're getting off. And we all know that it's hard to enjoy yourself if you can't stop thinking about your FUPA jiggling. Buy some lingerie or let your sweatshirt cover the spots you hate. If they can see you enjoying yourself and still get a peek at what you're doing, they're going to be happy. To make up for it, you can always send them some properly cropped and filtered pics of their favorite body parts beforehand. Each time you get it on virtually, try to show a little more skin.
Talk to Each Other
Sure, dirty talk can absolutely be involved with video sex, but it's also important to set boundaries before the fun kicks off. Make sure that you and your partner(s) are on the same page about what you want to do, and encourage them to speak up if something feels uncomfortable, awkward, or upsetting. (Obviously, you should do the same thing yourself.) And don't feel like you have to limit this part of the chat to the beginning of the virtual sex sesh: Keep the communication up during the whole thing. Trust us, it won't ruin the mood but you know what does? A partner who feels uncomfortable expressing themselves. Be transparent and vocal.
Go to Town
Technically, virtual sex means that you're going to town on yourself, which is kind of great since you know what works for you. With so many masturbation options, positions, and products out there, you have a lot of choices. It may take some experimenting to find out which method(s) works best. And on the other side of things, your job is to say and/or do things to encourage your partner to feel good, so try to put yourself in their mindset — or better yet, ask what they want. If you're not familiar with teledildonics — which is exactly what it sounds like — you might want to look into it.
Safety First
While STIs are not a worry during virtual sex, your privacy should be. Unfortunately, we live in a time where revenge porn is a reality so set boundaries and expectations ahead of any encounter, with a new partner or a familiar one. Make sure you know if your partner will screenshot or record you at any point during your session. The same goes for you letting your partner know. It's important the parties involved consent and understand what is about to go down. Once you do, go on with your bad self.
It's also important to be selective about what you're showing. You do not have to show all of your goodies if you do not want to. You can show as little as you want (or everything, just go at a pace you're comfortable with).
It's also probably best not to be intoxicated while you're doing this. You want to be aware of every action your taking you're taking so you don't wake up with any regrets.
Use Your Imagination
Listen, you're already getting pretty adventurous by having virtual sex. So, why not take it a step further and have some fantasy fun? Since this type of sex relies a lot on visuals, you can dress the part of whatever role it is you want to play. Plus, several video-chatting apps offer cool backgrounds. Ever thought about playing out a naughty Jedi scenario? You can download 20 different high-quality Star Wars backgrounds that will definitely make things (even more) interesting.
Enjoy Yourself
Have fun with it! You're basically getting the chance to masturbate to your own live porn with someone you care about (or are at least attracted to). How hot is that?
This article was originally published on