Crazy Easy Ideas For Small Laundry Rooms That Need Major Overhauls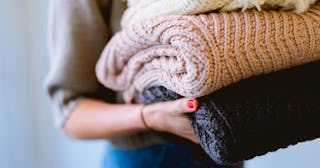 Dan Gold/Unsplash
Check out more from our organization package and find out how to declutter your home, how to organize your closet, make a moving checklist, how to properly organize your freezer, and DIY closet organization.
First, let's get one thing out of the way: If you have an actual laundry room, know that there are millions of people in the world who are super jealous of you. People with stackable units in a closet or no in-house laundry at all just cannot even relate to the struggle of a small laundry room. However, just because we have a laundry room now doesn't mean we're safe from inconveniences.
If you have a laundry room, you want to be able to utilize it for all things laundry-related. If it's a small laundry room, though, it might feel like getting everything done in there is just too much to ask. You can barely turn around. How are you supposed to unfold an ironing board? And how can you get to the washer when there's laundry baskets taking up the entire minuscule pathway? Girl, we know your struggle and we're here to help.
1. Stacked Laundry Basket Organizer
This wooden laundry basket drawer keeps the laundry basket footprint to a minimum by keeping them neatly stacked.
2. Tilted, Wire Shelf
Another option that requires no footprint at all is using those wire shelves you often find in closets. Hang one upside down and with the front end lower. The shelf will keep the baskets off the floor entirely and the lip will keep them from sliding down, even though you hung it at a slant to make it easier when lifting heavy baskets.
3. Over-the-Washer/Dryer shelves or cabinets
If the top of your dryer is littered with bottles of soap or sticky from said bottles, you might need some shelves or a cabinet to keep that mess contained. Both work equally well. However, be forewarned that open shelving only looks pretty and clutter-free if you keep it that way. And, let's face it, we don't all have time for that. A couple cabinets will hide things better. If you like that clutter-free look, fill up those handy shelves with baskets to hide that inevitable mess that ensues from having a small laundry room.
https://www.instagram.com/p/CAOgcqQHCAt/?utm_source=ig_web_button_share_sheet
4. Retractable hanging line
Whether you're a LulaRoe collector or you've discovered the wonder of period panties, you now have laundry that can't go in the dryer. A retractable hanging line takes up little space on the wall, but is sturdy and ready to stretch across your tight space when it's time to hang-dry some of your clothes.
5. Ceiling-mounted hanging rod
Another, more Pinterest-worthy option for hanging clothes to dry is a ceiling mounted rod. It'll probably be a little higher than your normal closet rod or clothes line, but that means it'll keep things further out of your way. If you want to eschew screwing in rods into the walls, try a tension rod to get the job done.
6. Counter or table-top over the machines for a clean folding surface
If you have front-loading machines, you must try this. Turn the tops of your dryers into a folding stations with a stretch of countertop, some simple wood or even a cheap, hollow door. Yes, the tops of your machines are already flat, but the expanded surfaces will keep smaller pieces from falling between or behind the machines.
7. Small shelf for between or beside machines
If you have a bit of a gap between your machines (or just want to create one), a narrow shelf to slide between the two (or at the end) will be extra handy. Use those helpful, colorful fabric cubes to pull out items that need special attention or to wrangle unmatched socks.
8. Wall-mounted Ironing Board
Ironing boards take up a ton of space when they're open or leaning precariously against the wall. If yours is as old as ours, they probably pinch your fingers or make a ton of noise during open and close, too. A wall-mounted board is much easier and safer to fold up out of the way.
9. Sticker Wallpaper and Tiles
Ironing boards and extra hangers can get the job done as far as organization but what if you also want an Instagram-worthy laundry room that looks fresh and new. Enter: peel and stick wallpaper and tiles. For a quarter of the price of the real thing, you can transform that space between the machines and shelving in an hour or two of your life. With so many high-quality options to choose from, peel and stick tiles or wallpaper can let you play up your fun side with tropical prints or get chic and classic with subway tiles. The world is really your oyster. Check out the selections at Home Depot or online retailers like Wayfair.
10. Repurposed Drawers as Wall Shelving
Got an old small chest of drawers you're about to get rid of? Why not reuse the drawers as wall decor and shelving? Remove the drawers and saw off the back. Spray paint it a different color or add design elements that match the rest of the laundry room. Finally, hang or nail the drawers to the wall and place laundry accessories or decor pieces inside.
This article was originally published on