Here's One Way You Can Kick Your Kid's Screen Habit To The Curb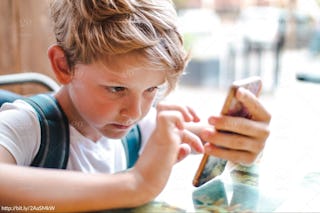 jordvdz / Twenty20
When should your kid get a cellphone is the universal question of our time. Not, are leggings pants or is candy corn delicious? We labor over the cellphone decision like it's world peace, and in so many ways, the stakes can feel incredibly high.
Deciding on the right time to give your child a cellphone can feel like choosing to turn your kid into a mini-adult, which is why the decision is so fraught for just about all of us. Because once you introduce a smartphone, your kid changes from cuddly to mesmerized. You'll end up talking to the top of their head with only grunts as answers.
Then there's all the privacy they no longer have even if you're a vigilant parent making it rain parental controls.
And going outside? What even is that place? Bikes sit in garages, skateboard wheels get rusty, and your kids stay glued to their devices when they aren't eating or doing homework. Don't you wish you could yell GO OUTSIDE to your kids just like your mom did?
That's why we're so thrilled to find Relay, the world's first screen-free smartphone. Bet you didn't even notice it in the picture above, did you? That cute red squircle hanging from the handlebars is the Relay phone, and hey look, there's NO SCREEN.
Why no screen? Because the evidence is mounting that giving young children screens that fit in their hands isn't great for their bodies OR brains. With Relay, we love the flexibility and safety of having a phone we can give young kids without opening the door to screen addiction and cyberbullying — while also keeping creepy strangers at bay. It's like Relay made the perfect kid phone.
Plus, how cute is this phone?! It's got one-touch dialing and works like a walkie-talkie that can call Grandma across the country as well as their BFF next door. And get this — the Relay doesn't collect or store any personal data, so you can keep your kid from becoming consumer data before they have front teeth.
The Relay is rugged and water-resistant which is great because tiny hands seem to have a giant talent for destruction. The battery is killer, too, and really lasts two to three days which is great for when your kid forgets to charge it at night.
And guess what? It's not just for calls. The founders at Relay knew the phone needed to be fun, too, so there's a Channel Store (think apps for your Relay) with games and music. It's everything you want in a phone without the internet, and seriously, don't we all wish we could go back to that life?
Best of all? The phone is less than fifty bucks and comes with stickers to decorate it and a magnetic charger. We recommend grabbing the cute loop case, too, for an extra $15 so your kids can just snap it onto their bikes and backpacks. The companion app for parents uses GPS to show you where your kids are hanging out too.
Relay really is the best of all worlds, so we can put off the whole "When is the right time for a smartphone?" thing for a few years. This way our kids get to spend more time being, well, kids.
Relay is the phone you didn't know your kids needed. It's beautifully simple and designed to meet the needs of the whole family by offering a safe and affordable communications solution for young children that's cute and fun! Now available at Target.com
This article was originally published on