Snail Mucin Is All The Rage In Skin Care Right Now
by Rita Templeton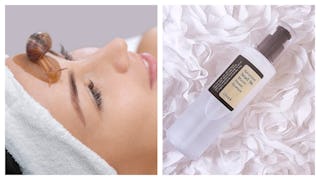 dimid_86 / Getty @sokoglam / Instagram
Imagine observing a snail and thinking, "If I smear some of that slime on my face, I bet my skin will look ah-mazing." Someone at some point did just that, and unknowingly started a snail mucin beauty revolution.
Okay, so maybe that's not exactly how the whole thing went down – but however it got started, there's no denying that snail mucin has slid its way into some of the hottest skincare products. Ancient Greeks and Romans are said to have prized it for its anti-inflammatory properties. Chilean escargot farmers (yes, that's a thing) are said to have noticed a difference in the skin on their hands where they regularly touched snails.
But as far as bringing snail mucin skincare from side-eye-worthy to mainstream, Korea gets the credit. Their $7 billion-plus beauty industry makes them one of the top cosmetics and skincare markets in the world, and they're renown for flawless complexions doesn't hurt either. Korean beauty products, or K-beauty, have taken the U.S. market by storm – including, of course, products enriched with the slippery essence of snail mucin. Mmmm.
But let's be real: the thought of slathering snail mucin anywhere near the face would give almost anybody the heebie-jeebies. So why should we be clamoring to do exactly that? For answers, we sought out the expertise of Charlotte Cho, founder of K-beauty retailer Soko Glam, who kindly broke it down for us. "Snail mucin possesses well-known skincare elements and benefits such as elastin, proteins, copper peptides, hyaluronic and glycolic acid, plus it also has anti-microbial properties to ward off bacteria," she says.
Cho went on to add that snail mucin is known for being able to firm and tighten the skin, boost elastin and collagen production, replenish moisture, minimize wrinkles and fine lines, repair skin damage, fight blemishes, and even out skin tone. It's great for acne and related scarring, and compatible with a variety of skin types, from dry to acne-prone.
We would be remiss if we talked about snails giving their all (okay, all their slime) in the name of vanity without mentioning their welfare. As you can imagine, harvesting snail mucus hasn't always left the snails unscathed – but these days, thankfully, most companies have ditched the animal cruelty in favor of more ethical processes. Optimal mucin production happens when the snails are happy and healthy, and productive harvests are achieved in various ways, from allowing them to crawl over a fine mesh netting to putting them in a closed tank filled with ozone, like a gentle steam bath … just not the kind that leaves them on a plate with a parsley garnish.
If all this leaves you ready to lube yourself from head to toe in snail secretions, you're in luck: Companies such as Mizon, Missha, TONYMOLY, Kenra, and CosRX have a wide range of goodies for the hair and the skin, and while some are pricier than others, there's such a variety that you don't even have to "shell" out the big bucks to experience the benefits.
Cho's personal picks for the must-have snail mucin products are Missha Super Aqua Cell Renew Snail Cream, or Missha Super Aqua Cell Renew Snail Ampoule, for a daily boost of snail-y goodness.
If you're good on hydration but still need some snail in your life, she recommends the Benton Snail Bee High Content Mask, a cotton sheet mask which contains the extra added bonus of … bee venom extract. You know, if snail mucin just isn't quite enough on its own. But – according to the accolades of experts and the Internet collective alike – it's one of those things you have to try if gorgeous, glowing skin is what you're after.
"It's truly a holy grail ingredient," raves Cho.
We think she means holy snail.
SaveSaveSaveSave
This article was originally published on