How The Government Shutdown Could Still Affect SNAP Recipients Like Me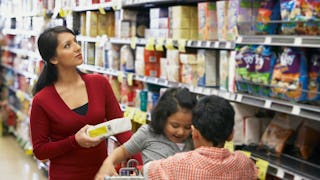 BLEND IMAGES - NOEL HENDRICKSON / GETTY IMAGES
Being a parent who receives SNAP (Supplemental Nutrition Assistance Program, aka "food stamps") is a challenge in and of itself. There is an incredible stigma placed on families who get SNAP. Mainly that parents are lazy and mooching off the government, even though you need to have proof of working or looking for work to be eligible. We're just trying to keep our kids fed.
Relying on the government for such a crucial benefit is hard enough. But doing it during this administration is especially hard. And now because of the recent government shutdown (and another potential shutdown in mid-February), many families who receive SNAP benefits are facing the painful consequences. Even with the government re-opening, it's only for three weeks, so there's no way of knowing what will happen when those three weeks end.
According to a report by Center on Budget and Policy Priorities (CBPP) — a nonpartisan research and policy organization — the way the Department of Agriculture shuffled money around could mean that some recipients could be waiting upwards of 40 days for their next benefits.
"Even if the shutdown is resolved in time for the government to provide full March SNAP benefits on time, the much longer than usual gap between benefit receipt for February and March will cause some households whose budgets already are extremely tight to face heightened difficulties affording food, as they await their March benefits," the CBPP report said, per The Hill.
As the parent of one of those households who receive SNAP benefits to help me and my son, this is all incredibly troubling. I am stressed out. Three weeks takes us to mid-February. What if the shutdown starts again and the March benefits aren't paid out? There are too many what if's to make me rest easy.
When you receive a message like this: "If you receive your February CalFresh benefits early, you should plan your food budget knowing that these benefits will be the only benefits provided through the end of February," your heart stops. This was a message that California Department of Social Services was sending out to SNAP recipients.
Grocery shopping as a SNAP recipient is always like a problem-solving game. I have to think about what we need, what we have already, what we can stretch out longer, etc. so that I can maximize my monthly allotment. I know where I can make the money stretch, but I'm likely going to have to adjust my out-of-pocket grocery budget too. I always try to make a backup plan, because it's rare that I have any substantial benefit money left over by the end of the month. Even with the most diligent planning, it's nearly impossible to pull off.
And even if the budget is approved and the March benefits go out, that's still over a month from now. That means I'll have to make substantial changes to my budget to account for the lost time. If the March benefits get paid out on time, I have at least two weeks between when my February benefits will likely run out and when my March benefits would be added.
What this means is that I'm going to be making a lot of big batch meals for myself. Chili is always a good option, along with things like lasagna or baked macaroni and cheese. Having staples like rice, canned beans and frozen vegetables are important too. They're inexpensive and often on sale, so I can create a good stock now and then hopefully have some money leftover for things like fresh fruit for or meat.
We're lucky; it's just me and my son so it's easy to cut corners. I only get about $350 for the month for the two of us. It seems like a lot, but it isn't when you get in a store. For larger families, while they often get more money, their costs are higher. If a family has two or three kids who eat like mine, YIKES. Many parents will likely be skipping meals to make sure their children are fed.
We got our benefits for February almost a week ago, around January 20th. Knowing that I have to make them stretch for well over a month, I have been extra careful about what I'm purchasing. Whatever I can buy on sale is crucial. And that goes double for store brand items, which are usually several dollars cheaper than a brand name. Thankfully some things we use regularly have been on sale. I was able to stock up on apple juice for my son, and chicken has gone on sale, which means I can buy two large packs for around the price of what one regularly costs.
Right now there is no room to buy what's not on my list, which is hard. Just because we're poor doesn't mean we aren't allowed to enjoy treats or I don't deserve to buy a nice cut of beef every once in a while. But until I know that I will be able to afford the staples, those things are out.
Between families of government workers who aren't being paid and families who rely on SNAP benefits to feed their families, food banks and food pantries will also have their resources strained in coming months. Many SNAP families will be forced to find alternatives to feed themselves.
For me, money is always under the best of circumstances. Having SNAP benefits provides me a little extra cushion in case something happens. At least I know we'll be able to eat. But now that I don't know if our March benefits will be paid out, it's scary.
For those of us who rely on SNAP benefits, life will get much harder before it gets better. We're not lazy; we're hardworking people who are just trying to keep food on our tables while also keeping a roof over our heads.
This article was originally published on