SNL Skit Captures How Much Apple-Picking Sucks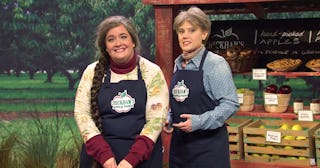 Saturday Night Live/Youtube
The folks at Saturday Night Live nail it again with a hilarious skit about apple-picking
It that time of year again – there's a chill in the air, the leaves are changing colors, and it seems like family time should include some sort of fall festivity like apple picking. Sure, it sucks every time we do it, but it's been 365 days and we have hope that this year will be different. If you need a reminder of the hell that is apple picking – leave it to SNL to give it to us straight.
This weekend kicked off Saturday Night Live's 45th season and while there were tons of cameos by the likes of Alec Baldwin, Larry David, and Maya Rudolph, it was a skit about apple picking that may have been one of the funniest of the night.
Aidy Bryant and Kate McKinnon played two sisters promoting their business, Chickham's Apple Farm, in a commercial. It's a place where people can come to pick their own apples for some good old fashioned "fall fun."
Chickham's is conveniently located in the part of upstate New York that "has confederate flags," a nod to the fact that 100 percent of apple farms seem to be so far away we spend more on gas money than we will on the actual apples but we're going to have fun whether we like it or not, dammit.
The sketch features some of their customers who give the farm, um, rave reviews. "I had fun, I think," one woman says. "It was far. But cute. Lots of bees," another customer chimes in. It's funny every single year it seems surprising the number of bees that would be attracted by, you know, hundreds of yards of fresh fruit sitting out in the open. And yet, we forge on.
Of course, you have to have the person who gets some sort of injury. "I stepped in a gopher hole and broke my foot. But my girlfriend had fun," one desperate looking man said. As long as your girlfriend have a good time, sir.
The best part of the skit had to be McKinnon and Bryant trying to deliver lines like, "For just $45 you can bring home $10 worth of apples," and another when describing the types of apples customers can anticipate like, "Huge soft" and "Tiny hard," then say, "What our apples lack in flavor they make up for in 'on the ground,'" that makes this skit one for the ages.
Also making an appearance was Hank, the "farm-hand who came with the land," played by guest host, Woody Harrelson. Hank, among other things, runs the petting zoo at the farm. "We found some animals and now they're in prison," he says while staring straight into the camera. Chickham's also sells cider donuts, which are "donuts, but from yesterday" and a healthy amount of "penis gourds," which came out "extra-penis-y this year."
Let's be honest, penis gourds, bees, and all, we all know we'll end up at an apple picking place again this year because we're parents and we're nothing if not persistent.
This article was originally published on