Disney World Is Closed, But Maybe These 8 Freebies Can Boost Your Spirits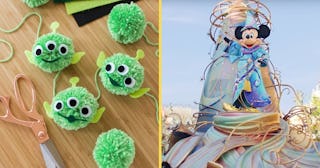 Disney Family/Instagram and Disney Parks/Youtube
Social isolation has certainly been challenging for families while we await the outcomes of the COVID19 pandemic. If you're like me, wading through shelter in place with your kids, you've asked yourself more than a time or two what you can do next to keep the fam entertained without shelling out some serious cash.
Fear not, parents! Disney World may be shut down, but there's no need to let the magic slip away. If your family likes all things Disney like we do, there are plenty of freebies at your disposal. Though the reality is bleak in this moment, these Disney joys allow us to experience some serious fun without stepping foot outside of our home.
You can watch the latest releases like Frozen 2 and all the classics, like 101 Dalmatians and Princess and the Frog. Disney+ also offers numerous Marvel favorites, National Geographic documentaries, the Star Wars flicks, Pixar shorts, and TV shows like one of my childhood faves, Boy Meets World. Be warned. A one-week trial of Disney+ is enough to get you hooked. Loved your trial? Disney+ is just $6.99 a month. The variety this streaming service offers is sure to please even the pickiest of viewers.
Enjoy Disney virtual rides.
Maybe your fam has been to Walt Disney World many times, or perhaps you're saving up for a trip right now. Either way, you can experience some of the most adored Disney rides from the comfort of your own home. All you need is YouTube to "ride" Splash Mountain, Slinky Dog Dash, Big Thunder Mountain Railroad, and many more. Of course, it's not the same as being in Florida or California, but it's still free and quite fun. The biggest perk? No standing in long lines.
Follow Disney's greatest fans on social media.
There are so many incredible Disney-themed social media accounts. Some are dedicated to giving you tips to make your real-life trip to WDW as magical as possible. Other accounts, like Jenny Blake (@DisneyHungry) focus on all the fantastic Disney fare. Love fashion? Check out Disney Style (@disneystyle) for apparel that'll have you swooning. My personal fave? I enjoy following Designer Daddy (AKA: Nephi Garcia) who makes the most stunning Disney themed outfits. The perk of following accounts is you get fresh content on the regular.
Watch a Disney parade.
Disney is well-known for their epic parades. Just in the nick of time, Disney has released a recorded version of their Magic Happens Parade from the Disneyland Resort in California. Viewers enjoy Mickey (of course!) along with sightings of Moana, Elsa and Anna, Aurora and Philip, Tiana, and Tinkerbell set to sing-along music. This eight-minute, fairly fast-paced parade is sure to delight your entire fam.
DIY Disney crafts, games, and recipes.
The Disney Family website offers loads of ideas to keep their biggest fans busy, whether you enjoy cooking, gaming, or crafting. You and your kiddos can make Winnie to Pooh flower pots—just in time for spring gardening. Get hands-on in your kitchen by whipping up Mickey-shaped pretzels. Try creating a customized Frozen 2 snow globe. Each Disney-themed idea comes with step-by-step instructions and a list of materials or ingredients needed.
Meet Disney's Animal Kingdom's newest animals.
I think we can all agree, baby animals are adorable and take our minds off the news. Disney is letting us meet the newest additions to Animal Kingdom via their YouTube channel. Get ready to melt over this baby porcupine and baby zebra. You can also catch a glimpse of those working diligently to care for the animals while the park is temporarily closed. The videos are under sixty seconds, which is perfect for kiddos with short attention spans.
Print and color a free Disney coloring sheet.
Crayola's website offers over two dozen free Disney coloring page printables. Coloring a relaxing activity that can delight kids and adults alike. Coloring pages feature designs from Frozen 1 and Frozen 2, Finding Dory, Star Wars, Toy Story 4, Cars, and several fairies and princesses. Our favorites are the mosaics.
Listen to Disney tunes.
If you're an Amazon Prime subscriber, you can listen to Disney music for free via Amazon Prime Music. Check out the Disney Hits album featuring thirty Disney songs including Try Everything by Shakira (Zootopia), the original Part of Your World from The Little Mermaid, and Hakuna Matata from The Lion King. There are several Peaceful Piano albums (that's Disney tunes played by a pianist), 50 Great Disney Songs, and yes, the Frozen 2 soundtrack. Whatever your vibe or mood, you'll be sure to find a playlist to match.
Yes, we all still have to provide our kids with home learning sessions and many of us still have to carry out our job responsibilities on top of care for our homes. But being in social isolation doesn't mean we can't whistle while we work, Snow White style.
This article was originally published on