SGN Returns With A Holiday Episode Featuring The Rock
by Julie Scagell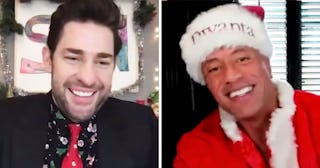 SomeGoodNews/Youtube
John Krasinski is back with some big celebs and good news stories that will make your day
John Krasinski's Some Good News is back, baby. Its eight-episode run during the start of the COVID-19 pandemic earlier this year was so popular that he ended up selling it to CBS, much to fans' dismay. Well, it looks like Krasinkski knew we needed a little end-of-year boost, and delivered one final time with a holiday special fans will flip over.
The latest episode of his YouTube show highlighted feel-good stories involving puppies, babies, new houses, and graduating from college, but not before Krasinski took the piss out of himself with some hilarious fan-drawn portraits of him.
Krasinski also highlighted a story of a woman fighting cancer who recently got engaged. When her nurses caught wind of the situation, they threw her a wedding to remember. And let's not forget the Dairy Queen in Duluth, MN. One person decided to pay for the person behind him in line and that kicked off a 900-person good deed to pay it forward to the driver behind them that spanned over two days.
Of course, if we're talking good news, we have to mention the coronavirus vaccine that made its way to the US via Fed Ex last week and began distribution to frontline workers who were literally dancing in the streets to receive it.
He also included a "Parents That Rock" segment dedicated to parents who went above and beyond to get their kids through the hell that was 2020. It's been a rough year and kids have suffered a lot by not being in schools and seeing friends and sometimes just being there for them is enough.
Krasinski also had help from his pal George Clooney to deliver the weather report because why wouldn't George Clooney deliver the weather. We also got a brief message from Justin Timberlake who is waiting in the wings in case Krasinski decides to retire, and the main segment featuring Dwayne "The Rock" Johnson to spread some holiday cheer for one family.
Krasinski interviewed a father of two named Jay, who decided to listed some of his favorite collector's items on eBay to raise money to buy his children's Christmas gifts. The past couple of Christmases have been tough after losing their mom and having some financial troubles. After laughing about Krasinski trying to buy some of his items and being told basically "we don't trust you" via eBay, Dwanta Claus, aka The Rock, wound up crashing their call. The reason? He wanted to inform Jay that he'd purchased every single item on his eBay page. What's more, he's going to fly him out to visit the DC Universe exhibit once it's safe to make the trip.
Please, please bring this show back and play it every single day for all of 2021. Maybe then we will all be able to heal from this hellscape year.