Sophie Turner And Joe Jonas Share Wedding Photos On 2 Year Anniversary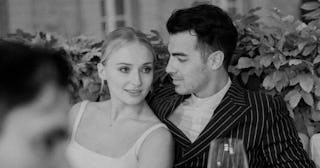 Corbin Gurkin/Instagram
If these pictures don't prove that Sophie Turner and Joe Jonas had the best wedding of all time, nothing will
Somehow, it's been two whole years since Sophie Turner and Joe Jonas got married. If the timeline seems a little confusing, that's OK — the pair famously left the Billboard Music Awards in 2019 and got hitched at a chapel in Las Vegas, then later had the kind of wedding you expect from two of the most famous people in the world, a blowout affair at the Château de Tourreau in Sarrians, France.
Turner and Jonas tried to keep their wedding under wraps (it was their DJ, Diplo, who accidentally spilled the beans to the world by live streaming part of the ceremony on his social media). But in the two years since, they've been slowly releasing handfuls of photos at a time, giving their fans glimpses into what looks like an incredibly fun night. Their two-year anniversary was yet another milestone, and another opportunity for both stars to share some new pics from their two big days.
Turner started off the festivities, writing on Instagram, "I mean… fuck it, it's been 2 years." She then shared a whole series of photos by photographer Corbin Gurkin from the ceremony in France, starting with a sweet shot of her and Jonas walking down the aisle together, and another of them dancing.
Turner's photo dump also included a shot of her with her bridal party, all in PJs, and a shot of the Chateau's swimming pool and grounds. Naturally, it all looks stunning.
The last photo Turner included was a shot of the couple's towering, white and gold wedding cake.
But don't worry — there are plenty more pics to come. Jonas also celebrated the day by sharing some shots of his own. Over on his Instagram, the singer got sappy, writing, "The best two years of my life," alongside a photo of him dipping his bride on the dance floor.
He also shared another set of photos, captioned, "2 Years Of Party Times," that show some candid shots of the celebration, including the part where he and the other Jonas Brothers performed at his wedding reception.
Apparently Diplo is forgiving for spilling big secrets, because there's also a shot of him spinning in the DJ booth.
If these pictures make anything clear, it's that Sophie Turner and Joe Jonas know how to throw two incredible weddings. Guess our invite got lost in the mail, but we'll just settle for obsessing over all these pics.