Good Afternoon & Welcome To Sophie Turner's Message For Anti-Maskers
by Cassandra Stone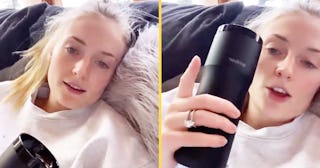 Sophie Turner/Instagram
Y'all better listen up because Sansa Stark has had it up to here with anti-maskers
Sophie Turner, always a complete delight, has a message for anyone who still refuses to wear a mask in public amid the ongoing coronavirus pandemic. And while it's a short, simple message, it feels very cutting (in a good way) — which can probably be attributed to her gorgeous British accent. Regardless, it's another installment of her fabulous and always spot-on "that's the tea" videos and we're very much here for it.
In an Instagram story, the actress, wife, and mom speaks directly to the camera while relaxing at home. "If I can wear a mask while I give birth, you can wear a mask at Walmart," the 24-year-old Game of Thrones actor said. "And that's the tea."
BUT REALLY THOUGH. Do you know how much heavy breathing and energy goes into child labor and giving birth? A lot more than what it takes to push a grocery cart around Wal-Mart for most people, that's for sure. And people are wearing masks while delivering babies every day, and have been, since March.
Turner and her husband Joe Jonas welcomed their first child, a daughter named Willa, back in July of this year. They currently live in L.A., where they're under a "safe at home" order requiring all residents to wear a face covering when they venture out in public for essential items.
This isn't the first time Turner has shared her feelings about the pandemic and doing what we all can to stay safe and keep other people safe, too. Back in March, some famous people with huge platforms were downplaying the pandemic in its infancy. Which wasn't a good look then and certainly isn't now.
"Stay inside, don't be fucking stupid, even if you count your freedom over — I don't know, what is it — your health," she said on her Instagram account at the time. "I don't give a F about your freedom. You could be infecting other people, other vulnerable people around you, by doing this. So stay inside, guys. It's not cool and it's not big and it's not clever. And that's the tea."
Sophie Turner, bringing the piping hot tea we all need in this godforsaken year. Now listen to the queen in the north and cover your goddamn face (yes, it goes over your nose too) before you breathe anywhere near another living creature from now until at least 2022, THANKS.