Y'all Eat Yet? 9 Southern Grannies Share Their Favorite Comfort Food Recipes
by Katie Cloyd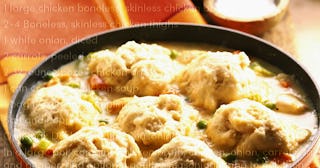 It's fall, y'all! Now, I must confess: I am not Southern by breeding. I spent my childhood in a big New Jersey Italian family. My family recipes are baked ziti and eggplant parmigiana (and French Canadian meat pies on my dad's side.)
Luckily, my parents had the sense to move to Tennessee when I was 9 years old.
Now, I'm semi-Southern, by the grace of God. I like to think I'm "a little bit Yankee, a little bit y'all." I've even got it on a t-shirt.
Of course, The South has areas where we need to get it together. I still see a Rebel flag flying high at least once a day, and Marsha Freaking Blackburn needs to GTFO. And that's the tip of the iceberg. We have some work to do.
But one thing Southern people know better than anyone is how to make some good, old-fashioned cozy comfort foods. When that first cool fall day comes rolling in, Southern ladies pull out the crockpots and cream soups, and that's when the magic happens.
For the next few months, it's casserole season. We don't get a lot of cold weather, but when we do, Southern ladies know how to warm you up from the inside out. Southern food is made from butter, carbs and love.
Since I've lived here for most of my life, I've got access to a lot of Southern people and their grandmas. I convinced a few of them to share one of their best quintessentially Southern recipes. I had to wade through a few of the more old-fashioned ones (I didn't think salmon and celery loaf would be a huge hit with the kids in 2020), but I have collected a veritable treasure trove of yum for your palate's pleasure.
Grab paper and a pen and prepare to make a grocery list. You're going to want to give every single one of these delights a try.
Let's start with an appetizer or two:
My best friend Emily comes from a long line of Southern ladies, and while I've never been accused of being a football fan, I am a football party fan, thanks in part to the following delicious crockpot concoction.
Emily's Little Smokies
2 Packages All-Beef Lil' Smokies (or One Bag All-Beef Frozen Meatballs if you prefer)
1 Bottle Heinz Chili Sauce
1 Jar Grape Jelly
Pour all ingredients into your slow-cooker.
Stir gently.
Cook on low for 5 hours or high for 3 hours.
When my tiny private school had a class party, our sweet, pint-sized history teacher, Mrs. Davis, always brought in sausage balls for our enjoyment. Mrs. Davis passed away a few years ago, but her recipe lives on. Give them a try.
Fran's Sausage Balls
1 pound pork sausage, cooked.
4 cups shredded cheddar cheese
2 cups Bisquick baking mix
Combine all ingredients until stiff dough forms. (Use a little extra baking mix if the dough is too loose.)
Roll into 1 to 2-inch balls.
Bake on 350 for 20 minutes, until golden brown.
How about a stick-to-your-ribs one-pot dinner for a crisp fall evening?
Chicken and dumplings is a quintessential Southern delight. A friend of mine who is as Southern as sweet tea graciously gave me her MeeMaw's tried-and-true recipe to pass along to you. She blew my mind when she told me she's been substituting frozen dumplings for a few years now. Her family hasn't even noticed. (She gave me this recipe on the condition of anonymity. She asked me not to blow her cover. MeeMaw would roll over in her grave.)
MeeMaw's Chicken and Dumplin's (Sorta)
1 large chicken boneless, skinless chicken breast
2-4 Boneless, skinless chicken thighs
1 white onion, diced
2 carrots, peeled and diced
2 32-ounce boxes chicken broth
1 can cream of chicken soup
1 bag frozen flat dumplings
Salt and Pepper
Optional: Dash of Poultry Seasoning
In a large pot, combine chicken broth, chicken, onion, carrots, salt and pepper, and optional poultry seasoning. Bring to boil then reduce to simmer. Slowly simmer for about an hour until the chicken is tender. Remove chicken breasts, put aside in a separate bowl and use two forks to shred.
Add can of cream of chicken soup and bag of frozen flat dumplings to the still boiling broth. Add dumplings frozen and one at a time to avoid sticking. Bring back to a boil, then reduce heat to low and simmer for about 50 minutes. Add shredded chicken, simmer for 5 more minutes and then allow to sit for about 10 minutes off heat before serving.
When this pandemic is over, you're going to need to bring a dish to a potluck. Any of these Southern sides are sure to be a hit!
This one is more entree than side, but it's delicious nonetheless. My friend Katherine's Grandma Vivian hated to cook, but she still managed to pass down recipes that feel like home to her grandkids.
Grandma Vivian's Chicken Casserole
3 large cans of chicken
8 oz sour cream 1 can cream of chicken 2 cups shredded cheddar 2 sleeves ritz crackers 1 stick butter
Drain and mix chicken with sour cream, cream of chicken, and 1.5 cups of cheddar.
Place in casserole dish or disposable aluminum pan.
Crush ritz crackers and mix with melted butter.
Top casserole with remaining cheese and then the ritz butter mixture.
Bake at 350 for 25-30 minutes.
(Side note: My friend Brooke adds poppyseeds and serves this over rice.)
My stepdad is always talking about his Momma Hopkins. His great-grandmother had only one leg, but it didn't slow her down. She retrofitted a kitchen chair with wheels, and zipped around making recipes full of bacon grease, white flour and love.
Momma Hopkins' Country Fried Creamy Corn:
8-12 Ears of Corn
1/3 to half cup bacon grease
Salt and Pepper
Cut all the corn off the cobs. (Make sure to scrape the cobs thoroughly until they're very dry and empty and save every bit of what you get off.)
Heat a skillet over medium heat and add grease. Heat just until melted.
Add corn and reduce to low.
Cook for about a half hour until soft and creamy.
Add a tablespoon of butter and salt and pepper to taste.
(Note: If you're not into bacon grease, this whole recipe could be made with butter, but I can't be held responsible if you get a midnight visit from Mama Hopkins, Ghost of Christmas Past style.)
My friend Jenn owns multiple businesses and has two children, so she leaves most of the old-fashioned Southern cooking to her Mama. But on holidays when her husband asks her to make his Granny's broccoli casserole, Jenn's always happy to oblige. There are lots of variations of this recipe out there, but this is rumored to be the very best one.
Granny Juanita's Broccoli Casserole
1 Stick Margarine
½ cup chopped onion
2 cups cooked rice
1 can cream of chicken soup
2 pkgs frozen chopped broccoli, thawed
1 small jar Cheez Whiz
Sautee onions in margarine while cooking the broccoli in the microwave or by steaming.
Mix together onion, broccoli, rice, soup and cheese whiz.
Pour into 9 by 13 pan and bake at 350 for 35-45 minutes.
Janice, a Nashville grandmother of six and certified Southern lady, swears that her Mama's yeast biscuits are even better than the regular kind. This old-school recipe doesn't take any shortcuts, but if you want to knock everyone's socks off, give it a try before your next holiday meal or Sunday dinner.
Granny Janice's Legacy Biscuits:
2 Cups Flour
1 Tbs Baking Powder
¾ Tbs Sugar
1 tsp Salt
¼ Cup Shortening
1 Cup Buttermilk
½ tsp Baking Soda
½ Cake of Yeast
2 Tbs Warm Water
Dissolve baking soda in buttermilk and reserve.
Sift together first 5 ingredients.
Add shortening and use two knives or a pastry blender to cut it in.
Dissolve ½ Cake of Yeast in 2 Tbs Warm Water.
Add Buttermilk with Baking Soda and Dissolved Yeast to dough.
Knead lightly until well combined, then roll, cut and set on a baking sheet.
Allow to rise for one hour, then bake on 450 for 12 to 15 Minutes.
No Southern feast would be complete without dessert.
Jackie, an IBCLC and grandmother of nine promises these cookies are the perfect end to any meal, or even a lazy Saturday afternoon treat.
Jackie's Pumpkin Chocolate Chip Cookies:
1 Cup Sugar
½ Cup Butter
1 Egg
2 Cups Flour
1 tsp cinnamon
2 tsp baking powder
1 tsp baking soda
1 tsp milk
½ tsp salt
1 Cup Pumpkin
1 tsp Vanilla
½ Cup Nuts (optional)
1 Bag Chocolate Chips
Combine all ingredients.
Drop into cookie sheet in rounded tablespoons
Bake for 12 minutes on 350.
The last recipe belonged to my stepdad's mom. Estele passed away last year after a long, beautiful life, but one bite of this cake can bring a little piece of her back to life. Once in a while, his mama would even leave the nuts out of this recipe just for him.
Estele's Butternut Cake:
For the Cake:
1 cup butter, softened
2 cups sugar
3 cups all-purpose flour
4 eggs
1 cup milk
2 Tbs McCormick Cake Batter Flavoring (Formerly Imitation Vanilla Butter and Nut Flavoring)
Preheat oven to 350.
Cream together butter and sugar.
Beat in eggs one at a time.
Add Cake Batter Flavoring.
Add flour and milk slowly, alternating between the two.
Pour into 2 greased 9-inch round cake pans and bake on 350 for about a half hour. Allow to cool completely on wire rack.
(Note: In a pinch, a boxed cake is just as good. Just add the flavoring before baking.)
For the Frosting:
I Pkg Cream Cheese
1 Stick Butter
2 Tbs McCormick Cake Batter Flavoring
3 ½ cups Powdered Sugar
Optional: Chopped Pecans
Cream together butter and cream cheese with hand mixer until smooth.
Slowly add confectioner's sugar until well-combined.
Add Flavoring and Pecans.
Mix well.
Use 1/3 of the frosting to ice the top of one of the cakes. Layer the other cake, and use remaining frosting to cover the rest of the cake. Sprinkle with additional pecans if desired.
There are thousands more where these came from. One little article could never scratch the surface. The South has never met a fruit it couldn't cobbler, a meat it couldn't bread and fry or a vegetable it couldn't casserole. There's no end to the gravies, beans and greens. We could go on for weeks.
The South is imperfect. In many ways, we have a long way to go. But when it comes to comfort food, we know just how to make a rainy, chilly fall day feel warm and cozy.
This article was originally published on