Southwest Pilot Who Landed Damaged Plane Is A Woman With 'Nerves Of Steel'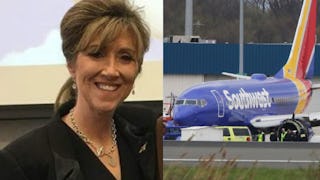 Image via DOMINICK REUTER/AFP/Getty /Twitter/zeroblog30
After her emergency plane landing, Tammie Jo Shults is being lauded for her ability to stay calm in a terrifying situation
Tragedy struck Southwest Flight 1380 on Tuesday when an engine blew and shrapnel from the explosion flew into the plane, killing one passenger, injuring others, and putting all 149 people on board into immediate danger. But the airline accident could have been much, much worse, if not for pilot Tammie Joe Shults and her crew.
It turns out that the female pilot has a long history of remaining calm when most people would lose their cool — and her competence and professionalism were on full display as she guided the plane to safety through an emergency landing.
At the end of it all? She stood and spoke to every person as they deplaned. As if she wasn't enough of a hero already.
Heavy reported that one passenger wrote, "Tammie Jo Schults [sic], the pilot came back to speak to each of us personally. This is a true American Hero. A huge thank you for her knowledge, guidance and bravery in a traumatic situation. God bless her and all the crew."
According to CBS News, the incident started just before noon and at 30,000 feet, as an explosion shook the plane and took out a window in the main cabin. The accident killed one passenger, Jennifer Riordan of New Mexico, who was pulled through the open window before being rescued by fellow passengers and later dying of her injuries. Seven others were injured, while one passenger reportedly quickly jumped to cover the hole, and prevent further injuries.
Meanwhile, in the cabin, Shults calmly and cooly took the plane into rapid descent, made logistical plans with air traffic controllers on the ground in Philadelphia, and remarkably never had even a moment of trembling or uncertainty in her voice.
Here's the full audio of the emergency landing:
At one point, an air traffic controller asks, "Is your airplane on fire?"
"It's not on fire, but part of it is missing," she answers. "They said there's a hole, and uh, someone went out." Despite the horrifying situation and tragic information she was relaying, Shults remained completely calm and focused the entire time.
Passenger Alfred Tumlinson told the Associated Press, "She has nerves of steel. That lady, I applaud her. I'm going to send her a Christmas card — I'm going to tell you that — with a gift certificate for getting me on the ground. She was awesome."
This is far from the first time that Shults has been awe-inspiring in the cockpit. According to the Kansas City Star, the New Mexico native was one of the first female fighter pilots in the U.S. Navy. She had always been interested in flying, but couldn't attend aviation career day at her high school because she was a woman. She tried to forget her dream of flying until her junior year of college, when she saw a woman in the Air Force. Soon she was in the Navy — the first woman to fly F-18s and later, a flight instructor.
In the book Military Fly Moms, she recalled going to airshows as a child and knowing from that time that she "just had to fly."
One of her college classmates, Cindy Foster, told the Kansas City Star, "She knew she had to work harder than everybody else. She did it for herself and all women fighting for a chance. I know all women are still fighting today, but I'm extremely proud of her. She saved a lot of lives today."
Here's one more image for further inspiration:
Though a life was tragically lost, Shults' quick thinking and expertise saved the other 148 people on board. She's a hero and the recognition she's receiving is much-deserved.
This article was originally published on