This Spa For Tired Parents Offers Childcare And Napping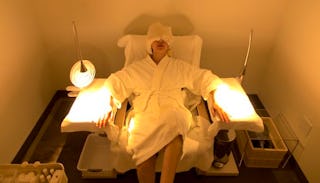 Image via Spa Lé La
This spa caters exclusively to parents including services just for pregnant and postpartum moms
Hey parents. When was the last time you really relaxed? I'm not talking the 11 minutes of relative quiet you got the other day when your toddler was sucked into a particularly riveting episode of Paw Patrol. I mean relaxed and took care of yourself. Like, three years ago? Yeah, me too. That's why news of a spa exclusively for exhausted parents has my heart bursting with joy and gratitude.
Spa Lé La is based in Los Angeles and looks and sounds like total heaven. Not only do they offer an array of regular spa services, (facials, massages, manicures, hair removal) they also have treatments just for pregnant and postpartum moms. Hallelujah and sign me up.
https://www.instagram.com/p/BjtCJDmh65O/?taken-by=spalelalosangeles
Facialist and Spa Lé La founder Trina Renea tells Scary Mommy her spa is "a great place for moms and dads to get away and get self care while we watch the little ones for free." Sounds good to us.
https://www.instagram.com/p/BTf1XnVgCT0/?taken-by=spalelalosangeles
Yu, that's right — they totally offer childcare. The first kiddo is free and the second is only $6, which is pretty much the bargain of the century. You're allowed up to two hours of spa time before you have to go check in on your rug rats, but then you can go right back to relaxing — because you need it so so badly.
https://www.instagram.com/p/BlMZPV3hI6S/?taken-by=spalelalosangeles
Renea tells HuffPost that the nannies hired to care for little ones while their parents receive pampering are Trustline and CPR certified, so your bliss won't be interrupted by worrying about the kids.
Also, it's very evident that Renea has parents' every concern and desire in mind because she offers a nap room.
A NAP ROOM.
https://www.instagram.com/p/BmM7Q_0AWgS/?taken-by=spalelalosangeles
That's right — for just $40, you get 25 minutes of sweet, sweet silence. And I mean silence, because the childcare room is soundproof so you won't hear your toddler whining for more Goldfish while you're getting your snooze on. For $20, you can zone out on a book, get some work done, or just mindlessly scroll Instagram in one of the spa's quiet room pods.
Related — the wish list for my next home purchase now includes a quiet room pod.
Another fun feature (like I said, Renea is totally thinking of what real parent life is like) is that guests can spend an additional 30 minutes before or after any treatment just chillin' while their kids are in the childcare room, safe and sound. She says she added that after hearing that parents felt like it was a big hassle piling kids into the car for an appointment that might be all too brief.
And if the idea of your babe spending time in the childcare room just so you can relax makes you feel that good ol' mom guilt, the spa even offers little classes for kids. The classes are free for parents using the spa during the class and otherwise just $6. They include yoga, art, and music.
Renea also has some words of support for the parents who struggle to take time for themselves. She tells us, "You deserve a little self care during the day. It makes you a better, happier person and your child gets a better you. When you're stressed during the day it's better to go to Spa Lé La and take a break while your child plays in the other room. Then when you come back together you're both happy. We want to take the guilt out of self care while parenting. It's important to self care in order to be the best you for your family."
https://www.instagram.com/p/BVudMhigcNj/?taken-by=spalelalosangeles
Sounds like this place has thought of everything. And lucky for us, Renea says there are plans for more. "Our goal is to open four more around Los Angeles and then franchising so that every town can enjoy a Spa L'e La."
Praise, because OMG, we need it.
This article was originally published on