Sick Of Broken Kid's Goggles? These Are A Game Changer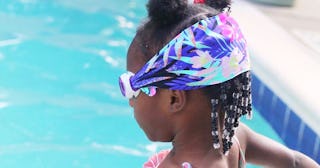 Splash Swim Goggles via Instagram
Splash swim goggles solve so many of the problems that traditionally designed goggle straps have (that drive parents crazy every summer)
When Ashley Carson was getting her family of four ready for a family vacation, she realized that her son's swim goggles had broken – for the umpteenth time – and that her daughter regularly complained about the thin rubber straps of her goggles constantly pulling her wet hair. While most parents would have taken a moment to swear, and then bought yet another pair of goggles, Carson decided to improve upon the design and invent something of her own.
With the help of her mom Karen, they launched Splash Swim Goggles and are off and running with what we think is the best improvement on goggles in all the time we can remember.
Carson tells Scary Mommy of the inspiration behind her product. "My son's goggles were always breaking, plus he needed help getting them adjusted all the time. My daughter would hardly wear goggles because they pulled her hair. While getting ready for our family vacation I had the idea of replacing the broken strap on my son's goggles with some fabric I had from my home sewing business. Both of my kids ended up loving them and I wasn't having to constantly help them fix their goggles. That's when I really knew that we had to make these available to everyone!"
The goggles, which use stretchy, swimsuit material as a headband, have multiple benefits over the ones with cheap, skinny plastic straps that you fork over cash for multiple times each summer. First and foremost, they're more robust than the thin straps: they won't tear or break quickly, even with lots of use. Next, they won't pull your kids' hair or snap skin, and they're super easy for kids to put on and off themselves. They're also nice and stretchy, so that they fit kids age three and all the way to adults. The width of the band also means that they stay in place comfortably after one easy adjustment.
All of the goggles sell for $19.95 and can even be found on Amazon.
The goggles themselves have polycarbonate lenses that are shatterproof and anti-fog, for the best visibility. They're also hypoallergenic – latex and PVC free.
The bands come in a wide array of patterns, from simple black to patterns like "unicorn" and "molten lava" and "kaleidoscope."
An added bonus? Parents report that the goggles are great for some kids with special needs – the bands are good for kids who might have less hand mobility, kids with sensory issues, and kids with Cochlear implants.
One bit of a warning? Several reviewers report that the one-size-fits-most goggles are a bit too big for little kids' faces (ages 3-4), so maybe wait to get these goggles for your smaller kiddos.
The patent is pending on these bad boys – but you can still buy them in time for summer.
In addition, you should know that the goggles are made mostly from local fabrics (Carson is located in the Pacific Northwest) and that the goggle straps are assembled by a group of local women, according to HuffPost. The return policy is no-questions asked for 14 days, as long as your product isn't used and it's in the same condition that it was received in. There's free shipping across the U.S.
This article was originally published on