Unique 20th Anniversary Gifts To Celebrate A Love Even Stronger Than Platinum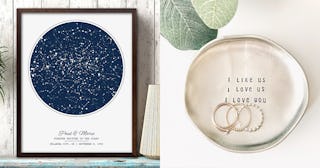 Etsy
If you're here for unique 20th anniversary gifts, you've come to the right place. Celebrating 20 years of anything is momentous, and when it comes to wedding anniversaries, that means your marriage is almost old enough to legally drink alcohol. But seriously, congratulations on making it not one, but two decades, together, which likely includes a million loads of laundry and dishes, maybe a kid or two, and countless laughs and memories.
The typical 20-year anniversary gifts are china (traditional) or platinum (modern), so if you're looking for some inspiration, go with those themes. But honestly, after two decades together, the best gift is probably one you'll both love together. Here are some of the best 20th wedding anniversary gifts to celebrate your long-lasting happiness.
Best 20th Anniversary Gifts
20th Anniversary Gifts For Husband
20th Anniversary Gifts For Wife
Check out our other great gift ideas here.