Adorable But Mighty Heating Pads All Of Us Need After Surviving This Month
We only recommend products we love and that we think you will, too. We may receive a portion of sales from products purchased from this article, which was written by our Commerce team.
by Team Scary Mommy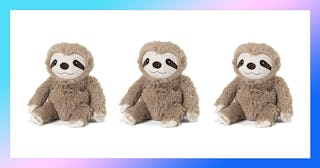 Amazon
Whether it's the cold weather or the muscle aches we get from doing our usual routine (i.e. handling the kiddos), we could all use a little ache relief at the end of a long day. The easiest solution (besides getting our partners to bring us a glass of wine in a bubble bath) is to use a heating pad. And trust me, microwavable heating pads are a close second to soak in the tub — especially when you don't have the time.
Let's breakdown all of the benefits of heating pads. They're also known as period heating pads or "cramp killers" because they give your period cramps the boot like no other. They can also soothe stiff joints, tired muscles, and any other body aches you may have. If you're thinking that a heating pad sounds uncomfortable to cuddle with, well surprise! There are super cuddly and cute heating pad options too. Leave it to the heated stuffed animals and the heated pads with a cool pattern to get you through the night. Even when you're not in any pain, they're just really, really useful for a cozy snuggle on a cold night.
So, to help you find the best heating pad for cramps, muscle aches, or cold weather, we tracked down some of the comfiest heating pads out there. And *bonus points* all of them are very cute and very fluffy. Get ready, because these ridiculously cute heating pads will make your body feel so much better.
Stuffed Animal Heating Pads
If we can learn anything from sloths, it would be to take it easy. This microwaveable sloth meets safety standards and is cute to boot. This little guy is filled with all-natural grain and dried lavender, meant to take soothing to the next level.
One Reviewer Said: "A friend said that her husband got her a Warmie while she was pregnant with her first child and that it helped with the discomfort and seemed to calm her baby down when the kicking got too much so I decided to give it a try. It is a relief! The smell is pleasant but not overwhelming and the soft warmth is so comforting!"
Heating pads come in a variety of different methods. With this one, you fill hot water (your desired temperature) into the rubber bottle. Pop the bottle into the paw cover and enjoy! If paws aren't speaking to you, this adorable hot water bottle also comes with covers ranging from pig to holiday stocking. The warmth lasts for hours and it's sure to help soothe any aches and pains (or just keep you warm).
One Reviewer Said: "Gets really hot. And you can feel it through all the fluff. I sometimes use it to go to sleep with the warmth. But helps with cramps and body pains."
Other Cute Heating Pads
Prepare for a whole onslaught of the heated comfort and plushness. These pillows are best paired with chocolate and your favorite TV show.
This article was originally published on