14 Fun Advent Calendars For Kids (Or, Honestly, Grownups Too) You Need This Year
by Sa'iyda Shabazz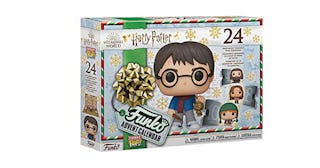 Amazon
Are you looking for a kids' advent calendar so you and your littles can count down the days until Christmas? It is the most wonderful time of the year, and possibly the best part of it is the anticipation for Christmas Day. There's a reason why kids love advent calendars so much — they're honestly even more exciting than the Christmas gifts themselves. Plus, advent calendars have gotten so much more advanced and creative over the last few years. Advent calendars aren't just for chocolate anymore — your kids can count down the days with (more) toys, LEGOs, Harry Potter, and more.
RELATED: 22 Adult Advent Calendars, Because Why Should Kids Get All The Fun?
But if your kid does have a sweet tooth, we've found some tasty chocolate advents, too. Here are some of our favorite advent calendars that kids (or the entire family) can enjoy.
Best advent calendars for kids
Best Harry Potter advent calendars
Best LEGO advent calendars
Best chocolate advent calendars
To get in the holiday spirit, check out the rest of our gift guides.