20 Grownup Advent Calendars You Won't Want To Share With Anyone Else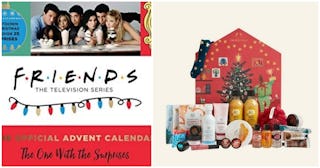 Amazon/Body Shop
When I was a kid, I used to love getting an advent calendar — mainly because I'm a chocolate addict and nothing made waiting for Christmas better than chocolate. That is still true today, of course, but my tastes have also grown as I've grown. I still like the idea of counting down to Christmas, even if it's only to know how many days I have left to shop. (Yes, I wait until the last minute. Don't judge.)
A few treats never hurts, but nowadays I want something more than just your basic, grocery-store chocolate. And the internet doesn't disappoint. Did you know that there are actually advent calendars specifically made for adults — that have grown-up stuff like booze, candles, skin care, and of course, chocolate. What a time to be alive.
Best advent calendars for adults
Best wine & alcohol advent calendars
Best makeup advent calendars
You deserve a countdown to Christmas just as much as the kids do. Because dammit, you survived another holiday season. So treat yourself!