This Air Purifier Has Nearly 2,000 5-Star Reviews On Amazon, And It's On Sale
by Gina Vaynshteyn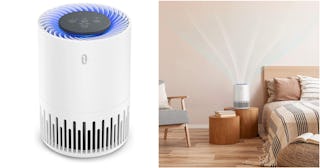 Amazon
Living in Los Angeles, you (sadly) get used to annual wildfires. However, I wasn't prepared for the entire West Coast to go up in flames this year (go figure, 2020). One of the wildfires was about 15 miles away from my house, and so we've been dealing with smoky air, an eerie pink sun, and layers of ash on the driveway and car for a few weeks. Even though the fire near us is still burning (as are many of the other West Coast fires), we were fortunate enough to not have to evacuate, and the skies have luckily cleared up near us. But during the thick of it, the smoke got bad enough that I caved and ordered an air purifier for the bedroom, just so that I felt safer for myself, husband, and our dog.
https://www.instagram.com/p/CFA3UIGA8gk/
As an air purifier newbie, I did ~extensive~ research on what was the best brand at my price point, and found that TaoTronics had an air purifier with a three-stage filtration that trapped impurities including allergens, smoke, pollen, odors, and dust. So, not only would it help purify the air (the inside of our house smelled like a literal bonfire for about two weeks straight), but it would also help with other allergens like dust and pollen (my husband is super sensitive — especially whenever the seasons change).
The TaoTronics purifier's HEPA filter removed 99.97% of airborne particles (as tiny as .3 microns), and has sweet features like quieting down at night during sleep mode, a night light (perfect if you want to place one in your night light-loving kid's room), four fan speeds you can choose based on your preference, and it's totally kid and pet-safe. This particular purifier is good for a standard room (it'll purify up to 161ft²), so if you're looking for something to purify the whole house, I'd recommend getting several.
Even if you live somewhere that doesn't combust into flames several times a year (I hope you don't, truly), air purifiers are great if you live somewhere that gathers a lot of dust, or if you spend a lot of time in the basement, as they sometimes can smell funky. Also purifiers are awesome if you have pets. My 90-pound dog sheds *everywhere* and leaves every surface she rolls around in smelling like…dog (I love her, so I accept and love all her flaws), but a purifier can help with the doggy smell!
Before purchasing, I did my due diligence and read up the reviews — currently the TaoTronics has nearly 2,200 reviews and 4.8 out of 5 stars. One helpful reviewer wrote, "I bought this product because I live in a basement and the air here is too [smelly]. That air purifier works like a magic, I could feel the difference after the first night, I fell [sic] my basement fresh and pure, this air purifier [takes] the all bad smell out. The sleep mode is perfect because I can't hear any sound coming out and the room still fresh. I have no words, I should bought it a long time ago!! Probably I will order another one only to let one in my bedroom and another to the living room."
Best of all, the TaoTronics purifier is currently on sale, so you save $8.36 (10%).