Amazon's Big Style Sale Is Here, And It Did Not Come To Play
by Gina Vaynshteyn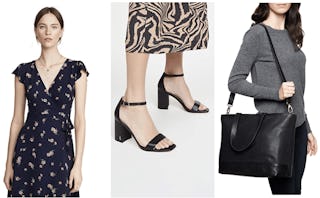 2020 may have postponed Amazon Prime Day (along with the rest of our hopes and dreams, lol), but that doesn't mean Amazon doesn't have something else up its sleeve. Amazon dot com seems to be making up for it by offering us its very first Big Style Sale to kick off summer — a sale solely dedicated to clothes and accessories. And the promotions are no short of epic. The Big Style Sale, which starts on June 22 and goes until June 28, offers up no-joke deals that include brands like Ray-Ban, Fyre and Co, Sam Edelman, Free People, Calvin Klein, Jeffrey Campbell, Solid & Striped, Hudson, and more. Now's the time to get what you want and need for summer, and beyond. With so many brands (including a handful of high-end designers) and so many discounts, you'll have no problem piling up all the good deals in your cart and feeling pretty awesome about it.
Whether you're looking for a new pair of sandals to go with your summer dress, or a pair of effortless sunnies to protect your pretty eyes from the sun, there's something for everyone and every taste. And with your Amazon Prime subscription, you'll get your smart buys shipped to you ASAP. Plus, if you don't like how something fits or looks, you've got seven days to return your loot.
More mom friendly fashion buys? Coming right up!