You Can Now Buy 'Little People' Figures Of Kiss And The Beatles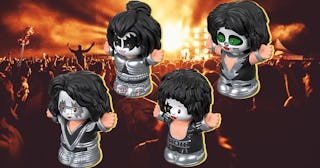 Amazon and Yvette de Wit/Unsplash
These Fisher-Price Little People toys will look great on your farm or at your schoolhouse.
Have you ever taken a seat on the floor with your kids, ready to dive into playing with some Fisher-Price Little People toys, and thought to yourself, "You know what this fire station really needs? Some rock stars." If you haven't, now that the idea is in your head, you're probably wishing for that right now. Well, today is your lucky day: Introducing Little People Kiss and The Beatles toys, which are guaranteed to make playtime so much cooler.
Amazon is selling these collectible sets so you can bring some of the top rock 'n rollers of your childhood to your kids' childhood, too. It's like a crossover episode. The kids probably won't get it, but you'll giggle endlessly at the sight of these guys working the Little People Farm, so it's totally fine. In any case, if music toys like guitars and drum sets are favorites for your budding prodigies, consider these character figures a vital lesson in legendary rock bands.
Fisher-Price Little People Beatles Toys
Fisher-Price Little People Kiss Toys
Fisher-Price Little People WWE Toys
Even if your kids don't have a bunch of Fisher-Price Little People playsets for these famous figures to take over, they're still collectible, and they'll look almost as great on display somewhere as they would working your Little People Veterinary Office. Almost. And each Kiss and The Beatles toy set is about 20 bucks—the WWE set is around $10—so you basically have no excuse not to buy them all. Go ahead and treat yourself or give this as a gift for any Beatles or Kiss band fan. In any case, this is the kind of nostalgia that belongs in all our kids' playrooms.
If you think these play sets are awesome, check out more of our favorite mom-approved toys!
This article was originally published on