I Found The Cutest Clothes For Summer On Amazon — All Under $100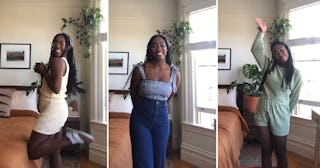 Amanda Davis / Scary Mommy
Amazon may not be your first choice destination for trendy fashion, but when you dig — it's there! After doing a huge shopping haul for Scary Mommy's Instagram, I'm pleasantly surprised to say that there are quite a few solid choices. I had to try the best-selling ZESICA lounge set that people seemed to be obsessed with and… I am now also obsessed. Other random finds include an insanely comfy jumpsuit from ASTR The Label and a super cute midi skirt from SweatyRocks.
Now, there were definitely some misses that you didn't (and won't ever) see. But I'd say a solid five new outfits is a win in this case. Just like when you're about to run out of face wash but can't make it to Target — when you can't make it to the mall, Amazon is an option *pretends to be shocked*.
Check out my top fashion picks from Amazon below!
More Great Options & Honorable Mentions
So not everything made it into the Instagram Reel (30 seconds ain't much, okay?) — but there are tons more great fashion options on Amazon! Check them out below.