This Anti-Stress Weighted Blanket With 17,000+ 5-Star Reviews Is On Mega Sale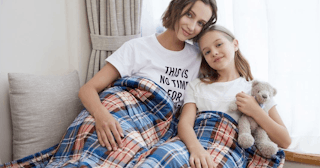 YnM Instagram
2020 has been stressful AF. Let's not even get into it, because to do that would mean replaying its awfulness, and we are just not about that at this very moment. With the election coming up, and then probably a very weird holiday season after that, we want nothing more than a cozy blanket, some cheesy fries, and Netflix. And wine. Like, a lot of it. Lucky for us, there is some goodness in this world, and that goodness is the YnM weighted blanket, which is currently about 40% off (as in, $30 off) for Amazon Prime Day 2020. It checks off that "blanket" part, and honestly a lot more.
With over 17,000 5-star reviews and 4.6 out of 5 stars, the YnM weighted blanket rivals the OG Gravity Blanket, and can help with stress, anxiety, and insomnia. (Science truly does show that deep pressure stimulation, which weighted blankets provide, can help relieve pain, decrease anxiety, and improve your mood.) If you don't need a weighted blanket for yourself, this makes a perfect gift for just about anyone in your life, but especially tweens and teens who are seriously feeling the pandemic/this year HARD.
This sensory blanket comes in a bunch of different sizes and weights (the one on sale is 48" by 72" and weighs 15 pounds), along with colors (this one is gray!). What makes this one so well-loved is its 7-layer designer that makes sure you're comfy and cool (the glass beads give you temp control, which is important, because if you're feeling too hot, it'll negate all the good qualities a weighted blanket offers).
"For several years now I have had trouble sleeping. I tend to wake up at least 6 times a night and it takes me up to an hour to fall asleep even if I'm tired. I find that when I use the weighted blanket I wake up less often and I fall asleep faster. I also tend to have a lot of nightmares for some reason as well, but that has also decreased since using the blanket. I am very sensitive to warm temperatures (can't even sleep under the same blanket as someone else or i get too hot), so I was worried that the blanket would be like a sauna. To my delight, unless i go to bed stressed and riled up, the blanket keeps me at the perfect temperature. I love my blanket!," one reviewer wrote.
https://www.instagram.com/p/Bpn_JMNHDaO/
"I'd read the great reviews for this and was hopeful it would help increase sleep time and comfort, and wow! Before I received this weighted blanket, according to my Fitbit, I was averaging about 4.5 hours of sleep per night due to pain. My first night with this blanket and I slept over 7 hours!! Same for my second night. This is so comfortable and comforting. I'm recommending this to everyone I know!" another happy customer reviewed.
This makes the best, most soothing and comforting present — for yourself and for others.
This article was originally published on