Australian Firefighter Pillowcases Exist, So 2020 Isn't All Bad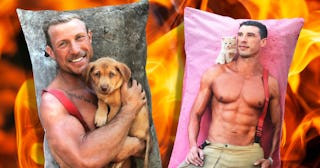 Australian Firefighters Calendar and Maxim Tajer/Unsplash
Plus, funds raised from the 2021 Australian Firefighters Calendars will be donated to animal charities
The Australian Firefighters Calendar is back — "and after the year we've all had, the Australian Firefighters Calendar is certainly a sight for sore eyes," their press release so perfectly states. While every year we eagerly await to flip through pages upon pages of firefighters gripping hoses in the Hero Calendar, shirtless firefighters holding roses like they're on an episode of The Bachelor, or delicately cradling puppies in the Dog Calendar, this year, the Australian firefighters have a new, much more hands-on treat for us all: pillowcases with — you guessed it — shirtless firefighters.
In addition to producing six different calendars (the Classic, Dog, Cat, and Animal Only calendars), including two versions (the Hero calendar and the Animal Lovers calendar), the Australian firefighters are also doing the public a solid this year and selling four different pillowcases for $7.73 each, plus shipping. Want a shirtless firefighter? Come and claim him:
Want to cuddle up with Tall, Dark, and Ripped with a tiny kitten on his shoulder? Go get your cat-lovin' man:
More of a dog person? They have a version with Shirtless Firefighter No. 1 holding a puppeh:
Or, why have one dog when you can have two peeking over the shoulder of Back Tattoo Guy?
Of course, you'll want to pair your pillowcase order with at least one of the Australian Firefighter Calendars, if not to stare at hot heroes for the entire year, then at least to help raise money for animal charities — like Byron Bay Wildlife Hospital, where they're building Australia's first mobile Wildlife hospital, which can be rushed to wherever the wildlife emergency may be.
"No one was left unaffected watching our precious wildlife trying to escape from the bushfires, and the loss of wildlife is beyond comprehension," says David Rogers, Australian Firefighters calendar director. Last year and through early 2020, Australia was victim to catastrophic bushfires, losing an estimated 1 billion animals from their wildlife.
"Everyone at the Australian Firefighters Calendar decided that all our efforts needed to be focused on Australian Wildlife this year," Rogers adds.
Last year, the calendar sales helped Currumbin Wildlife Hospital pay for new equipment and supplies for nearly six months as head vet Dr. Michael Pyne and his team helped save koalas, wombats, kangaroos, and birdlife.
"The support from the donations the calendar provided were vital through the bushfires, supplies were very limited and the injection of funds from the calendar helped save many animals," Dr. Pyne says.
This year, funds raised from the 2021 Animal Lovers Calendar will help injured wildlife from the recent fires. And funds raised from the cat and dog calendars this year, which photographed rescued animals this year, will go to rescue organizations such as Safe Haven Animal Rescue and All Breeds Canine Rescue.
Other beneficiaries include Australian Seabird Rescue, Native Animal Rescue, Wildcare Inc., RACQ, Rural Aid, and Kids with Cancer Foundation.
"After fighting the fires and witnessing the suffering of the wildlife, my crew and I felt compelled to do more," says Cameron Simpson, Fire Rescue New South Wales leading firefighter. "We donated money to care for a koala called Anwen and after seeing first-hand the work carried out by the volunteers at the Port Macquarie Koala Hospital, our perspective on the protection of our wildlife has been changed forever."
Since the Australian Firefighters Calendar was established in 1993, they've raised more than $3.2 million for various charities.