These Baby Rockers Will Rock Your World (And Make Your Little One Chill Out)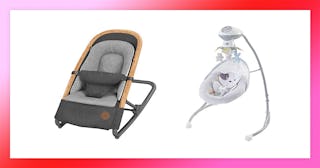 Amazon
How much do you love putting your little one in a baby rocker and just letting it do the work of calming them down? Just us? The best baby rockers are a dream when you've got babies who demand to be rocked 24/7 (our arms aren't made of steel, but they don't know that). With one (or a few) of these baby rockers in your house, you can save yourself a little time and effort when it's time to soothe Baby. The best baby rockers come in a variety of price points and with a bunch of functionalities to suit your needs — whether you want an electric one, one that'll comfortably hold your newborn, or one that you can manually rock yourself. Ahead, we picked out eight really solid options, from budget-friendly to luxurious, that will be your new favorite baby product.
Note: Pediatricians don't recommend that you let your baby sleep in a rocker (or any "sitting device"), as they've been linked to increased risk of suffocation. It's also important to always monitor your child closely when they're sitting in a rocker.
Are baby rockers safe for newborns?
"When used according to directions, baby swings are a great way to calm a fussy baby and keep them entertained," explains Brian Gum, Director of Marketing at Munchkin. That, of course, includes abiding by the weight limits of the rocker you choose. (For instance, Munchkin's new smart infant swing, below, has a weight capacity of 5-20 pounds.) Gum also shares a few other safety tips:
"Always use a baby swing on a flat, stable floor. Don't use it on elevated surfaces, as that is not safe. "
"Stop using the swing or rocker when the baby is big enough or old enough to attempt to climb out."
"While it is really tempting to let your baby sleep while in their swing, it is not intended for that purpose. Babies should only sleep alone on a firm, flat surface without any loose bedding or objects near them."
"Always secure your baby using the restraint system or harness that's provided."
"Make sure the swing is at a complete stop and, if possible, locked to prevent the seat from moving while buckling your child in or taking them out."
"Don't ever leave your baby unattended in a swing."
"Keep adapter cables and remote controls away from grabby hands and curious mouths."
"Do not move or lift a swing with the baby inside it."
What is the best rocker for a baby?
With safety being the top priority, the next things to look for in a baby rocker are ease of you for you and one that suits your baby's preferences. Of course, the latter can be hard to predict if you're looking to buy before your LO is born; choose a rocker that has a few different motion and sound options, and you really can't go wrong.
Gum shares some expert advice for choosing the right baby rocker for your family. "The fewer the pieces, the better!" he says. "Swings with fewer parts are easier to assemble and are less likely to be put together incorrectly or unsafely." He adds, "Find the motion that works best for your baby and stick with it! Usually a natural motion works, so look for that side-to-side sway that mimics being in Mom's or Dad's arms. Music can be a great addition and calming feature."
***
A lot to digest? We get it! That's why we rounded up the best-reviewed baby rockers for you to consider for your newest addition.
Best Simple Baby Rockers
Best Electric Baby Rockers
Best Newborn Rocker
This article was originally published on