These Rompers & Jumpsuits Are So Cute, You'll Want To Steal Them From Your Baby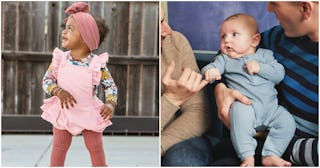 Amazon/Maisonette
Rompers and jumpsuits for toddlers and babies are ideal because it's one step to a complete outfit. Sure, you can elevate the look with a cute headband or spiffy dress shoes, but the romper does the heavy lifting for you. If you think matching two or more pieces to form a cute and coherent outfit is a simple task, try doing it while you're sleep-deprived. And I can't be the only one who's had to change my baby's clothes after my husband dressed her in some batshit combo of clashing colors and prints. No, I don't have the time to explain the subtle art of pattern mixing when we were supposed to be out the door ten minutes ago. The romper solves all of this and proves that baby and toddler clothes can be affordable, chic, and not entirely covered in Disney characters (but yes, we love those, too).
What are baby rompers?
Rompers have been a mainstay in children's fashion for over a century. They were literally designed for littles to wear while they play, but women quickly realized how cute they are and made adult versions for themselves. Their popularity is earned! They're basically the more functional cousin of the dress — they can be casual or sophisticated, depending on the fabric and details. So finding the perfect romper for your babe is really just about finding what fabrics and details work best for their lifestyle.
What's the difference between a romper and a onesie?
Toddler and baby rompers are quite similar to onesies, but the biggest difference is style and legroom. For one, rompers and jumpsuits often cover those cute and chubby little legs. And two, a onesie is usually more pajama-like and is worn by newborns and infants. A baby romper or toddler jumpsuit is an outfit! There are ruffles, cute patterns that aren't clouds and sheep, and much easier opportunities for a mommy and me moment. Whether it's for a play date, a family event, or an outing — rompers and jumpsuits for toddlers will definitely have them looking their best (not like it's that hard to do — they're freakin' adorable.)
Whether you're looking for a fun look for your next family photoshoot, or a practical one-piece for everyday wear, we found the cutest and most functional rompers for toddlers and babies. Let's go!
Best Baby Rompers
Best Toddler Rompers
Best Baby Jumpsuits
Best Toddler Jumpsuits
Best Rompers For Toddler Boys
Best Jumpsuits For Baby Girl