You Can Now Buy Baby Shark Costumes For The Whole Family
by Leah Groth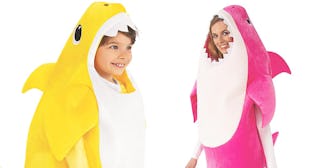 Amazon
Is your kid still into "Baby Shark"? Welcome to the club. The infectious toddler song that just won't exit our brains is still a toddler staple in the house, and more likely than not, an inspiration for many a Halloween costume. Even though Halloween will look very different this year, thanks to COVID-19, there's no reason to deprive your kids of dressing up — just do it inside! If you do decide to go trick-or-treating, just make sure to wear a (Halloween-themed) mask and socially distance yourself from other families.
RELATED: This Brand New 'Baby Shark' Sing And Swim Bath Toy Is In High Demand
To keep things light and fun this year, regardless, the entire family can dress up as Baby Sharks. Rubie's, one of the biggest purveyors of Halloween costumes, is selling officially licensed Baby Shark themed costumes in a variety of colors — pink, yellow and blue — sized from infant to small child. In addition to looking like a stuffed animal shark, your child will be able to terrorize the entire community on Halloween, simply by the press of a button. Because of course, the costumes have a built-in sound chip that plays the song. We're also including other brands (including ones from Etsy) in case you want your Baby Shark costume to be a little more customized.
But seriously, don't feel pressured to dress up in a Baby Shark costume — or any costume at all for that matter. You can still be festive and get into that spooky spirit with the help of an ugly Halloween sweater, one of our favorite new trends going into Halloween 2019.
This article was originally published on