Comfortable And Cute Baby Shower Dresses You Can Wear More Than Once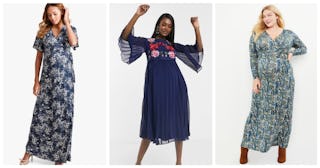 Ingrid & Isabel/ Asos/Motherhood Maternity
No, you're not being vapid: It's okay to want to look cute in a new baby shower dress. Whether it's large or intimate, virtual or in-person, fancy or a backyard bash, your baby shower just might be one of the most special days of your pregnancy. Since it's a day you'll likely look back on years from now, you want to wear a great baby shower dress that makes you feel beautiful, swollen feet and all (although, we've got some great pregnancy shoe recs). Finding the perfect maternity dress that will fit your expanding belly is the goal, but it's also nice to find one that can be worn during your postpartum days or even other days of your pregnancy. With a baby shower dress, comfort and versatility are key, so you also want to find something you can easily move around in that doesn't feel restricting in any way.
There are so many gorgeous baby shower dresses out there, so what it really comes down to is you picking the one that's right for you. Do want something casual that can be dressed up or down for the rest of your pregnancy? Do you want to go all out and get something super glamorous? Would you rather opt for a trendy piece that will make you look like the coolest mom on the block? Or, hey, maybe for you, it's comfort and affordability over anything else—and there's nothing wrong with that!
Below is a selection of baby shower dresses, and we can bet that at least one is going to fit with what you're looking for.
Best Baby Shower Dresses
Affordable Maternity Dresses for Your Baby Shower
Cute Maternity Dresses for Your Baby Shower