This Back Massager Has Over 22,000 5-Star Reviews, And It's On Sale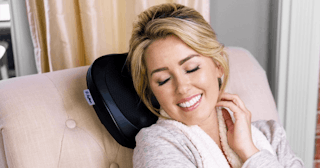 Instagram/zyllioninc
We all majorly need massages right now. It has been a year of terrible things, and you're not alone if your neck, shoulders, and lower back (especially the lower back!) feel like petrified wood. You might working from home, which means you're likely working from bed or couch. You could be juggling parenting and being a part-time teacher. You may be just straight up stressed and you don't have to justify why to me. I get it.
Which is why I fully recommend this back massager — it's the next best thing to a massage from a human. I usually use this lying down in bed and position it to massage my neck and lower back. It heats up which also helps relax my muscles while the massager does its magic on my poor, badly postured body. And…it feels amazing. The ergonomic pillow massager is cool because it fits wherever you need it to — your neck, lower and upper back, even your abdomen, calfs, and thighs. Just plug it in, press the "on" button, and you're all set.
If you don't believe me, here are some happy customer reviews that may just sway you:
"First- it works… and it works incredibly well. Its size, its shape, its profile, all contribute to it being well-suited to target specific problem areas of the body. It can be placed in so many positions, it can reach even the harder to reach places like the back of the neck or the lower back area. I discovered some nasty knots at the back of my thigh; I slide it under my leg while sitting or reclining and rest my leg across it – sometimes putting a little pressure on it to get it to knead a little deeper into the lumpy knots!
I hurt my back over a year ago and have been struggling with back pain and sciatica for about 12 months now. In addition to this, I also have muscle knots – back, neck, shoulders, and legs – which I recently discovered I had. I started using this massager for 30 minutes a day to 2 hours a day, kneading those muscle knot areas. And I'm happy to say I'm finally starting to feel results," one person wrote.
Another wrote, "I bought one of these massagers for my mom as a Mother's Day gift, because my mother works standing up the whole day she suffers from leg pain when she gets home. This massager has completely changed her life. Once she gets home she plugs it in and puts the massager underneath her legs and she says it soothes her leg pain until she feels no pain. When the timer goes off (20 mins), she can walk like a new person again."
Treat yourself. Give your body some love. You'll thank us later.