Do Your Homework And Grab These Deals For Back To School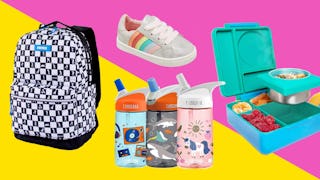 It's the most wonderful time of the year, Mama. Time to send your kids back to school and get those six glorious hours of your life back. The only thing better than back to school shopping is getting great deals on everything you need. We found the most affordable stuff so you don't have to do the work. You can just copy off our list.
RELATED: These Backpacks For Boys Are So Popular For Back To School
Your kids will get starry-eyed over the sequins on this backpack that change from silver to gold when you brush them with your hand.
Put on this backpack to blend right into the background of any disco forest you might find yourself in.
This backpack has so many pockets! A roomy main compartment, an insulated pouch for snacks, an adjustable mesh bottle pocket, and a zip-up side pocket. Plus, a slightly intimidating robot face to scare off would-be homework thieves.
This one of-a-kind backpack features that video game all the kids are playing. Got a kiddo who loves Fortnite? Maybe they can explain the appeal of it to us.
LUNCHBOXES & WATER BOTTLES
These bento-styled lunchboxes feature compartments perfectly sized for kid portions. It's leak-proof, microwave and dishwasher safe, and comes in fun colors.
These colorful, modular lunch box containers come with blue ice freezer packs that snap on to keep your kid's lunch chilled. Now, that's just cool.
Keep separate food sections hot and cold together with this bento box container. Genius, right? No surprise it was invented by a mom with a picky eater.
Keep your lunch cool on the inside and cool-looking on the outside with this Fortnite insulated lunch kit.
This spill-resistant water bottle is kid-sized, colorful, and keeps them hydrated. It's also easy to clean and uses materials 100% free of BPA, BPS, and BPF. (Basically, all the bad "BPs.")
Save them from being thirsty with this Captain Marvel thermos. It keeps liquids cold for up to 12 hours.
CLOTHING
If your kids go through clothes at the rate ours do, you're gonna wanna buy in bulk. Grab this amazing deal on t-shirts so you can keep them in clean shirts for more than a day.
Grab this fun graphic tee for the little gamer in your life. He can't play video games at school, but he can still obsess about playing them if he wants to.
Transition from summer into fall with this long-sleeved cotton dress. One reviewer wrote, "Fabric is lightweight and breathable. Perfect for casual school wear, or even a party. It is very easy to dress up or down!"
This sweatshirty french terry dress is as comfortable as it looks. Add some leggings as the weather gets cooler.
Take a break from annoying loud, light-up shoes. These cute basic sneakers have a padded insole and thick outsole to keep them comfy the whole day.
BUY 1 GET 1 50% OFF KIDS SHOES
These are perfect for the tiny diva in your life. If your toddler prefers sashaying over walking down the street, you know who we're talking about.
These mid-top sneakers have a cushioned footbed for comfort and a reinforced heel and toe for durability. Basically, they will take a licking and keep on ticking.
BUY 1 GET 1 50% OFF KIDS SHOES
Our mom experts only recommend picks they really love. We may earn a commission on purchases made through links from our site, but if we love it, we know you'll love it. And we Scary Mommies gotta stick together.
This article was originally published on