The Best Balconette Bras For Every Body, Whether You're Showing Off Your Décolletage Or Wearing A T-Shirt
by Rachel Aschenbrand-Robinson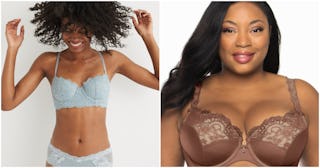 Aerie/Amazon
The balconette bra is arguably the sexiest, most flattering, most meant-to-be-seen bra style of all. Companies vary in their definitions of this style: Some have more straight-across necklines, others have sweetheart shapes. Either way, a balconette bra has cups in between demi- and full-coverage, and most have wide-set straps. This makes them perfect for square-neck dresses and tops, but they're still suitable for everyday wear under your favorite t-shirts and summer dresses.
We reached out to Kimmay Caldwell, Undergarment Educator and founder of HurrayKimmay.com to give us the lowdown on this supportive style and share her picks for the best balconette bras to shop now.
"Many balcony or 'balconette' style bras are cut-and-sew styles, meaning their pieces are cut and sewn together," says Caldwell. "They have seams that might make the bra less smooth, but usually offer superior support." She continues, "These cut-and-sew styles are engineered similar to a bridge and are meant to keep your bust suspended. Some come in 3-, 4-, or even 5-part cups and might include a side support section to keep breast tissue projected forward. These are popular with full-busted, wide side bra wearers." Other balconette bras have smooth cups and are made of one piece of firm material–otherwise known as molded cups. "These are especially great for a smooth look underneath a t-shirt," notes Caldwell, "but both the molded bra and the cut-and-sew bras are wonderful options."
Because wide-set straps can be prone to slippage, Caldwell offers this pro tip: "If you experience straps slipping off your shoulders when you wear a balcony bra, check the band first. Most people I fit are wearing a band that is too loose, which causes it to ride up and straps to slip down. A snug band will act as an anchor and keep adjusted straps in place."
Ready to add this pretty yet practical style to your wardrobe? Ahead, shop some of Caldwells picks for the best balconettes on the market today.
For bra fit guidance, you can request Caldwell's Free Bra Fit Guide at hurraykimmay.com/braguide.
Best Balconette Bras
Best Plus Size Balconette Bras:
Best Unlined Balconette Bras:
This article was originally published on