The Best Beach Tents That'll Keep You And Your Family Sun-Safe All Summer Long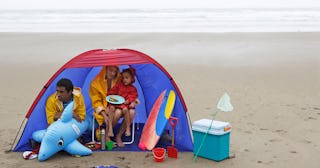 Getty Images
If you're going to the beach a lot this summer, you're going to want a good beach tent. After what felt like one of the longest winters in history, summer is finally here, which means lots of sunshine, outdoor gatherings that are (hopefully) maskless, safe, and plenty of good fun at the beach. On the laundry list of gear you need for an enjoyable beach day with your family, a beach tent tops them all (along with some beach toys, beach blankets, and beach chairs of course).
Beach tents shield you from the sun, thanks to their UPF 50+ protective coating and provide shelter from the heat on hot days (not that this gives you an excuse not to slather yourself and your family in SPF!). They also feature windows that you can roll up or down depending on the amount of airflow you want going through the tent.
There are also beach tents that are baby-sized and meant for, you guessed it, babies only. Along with bucket hats and kid-friendly sunscreen, these are great for young infants who need to be totally protected from the sun and have a place to nap on the go.
Ready to shop the best beach tents for summer? We're sharing the top 12 for every family size and style.
Best Beach Tents
Best Pop-Up Beach Tents
Best Baby Beach Tents
Best Baby Beach Tents
Now that you've got your baby's bucket hat(s) squared away, shop more of our kids summer picks here!
This article was originally published on