Amazon Shoppers Are Going Nuts For The Bed Scrunchie (Yes, Bed Scrunchie)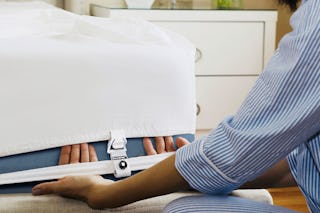 StackCommerce
A freshly washed and made bed feels amazing to lay in, but that crispness fades after a couple of nights when your sheets start to sag and crinkle. Amazon shoppers are going nuts over the Bed Scrunchie, ranking it with 4.4/5 stars for its ability to make your fitted sheet tight and truly fitted all the time.
The Bed Scrunchie is easy to set-up and makes maintaining your bed easier with reduced daily tucking and stuffing to get that crisp sheet feeling. It works through several clips that attach to the edges of your bed sheet. The whole thing easily slides under your bed with the edges of your sheet and with a quick pull to the drawstring-like ties, your sheets will fit perfectly like a hotel's.
Memory foam and other unique mattress sizes and materials pose a challenge with sheets, and the Bed Scrunchie solves those, too. With an extender for short sheets and converter for flat sheets to function as fitted sheets, no bed is left behind. As one Amazon shopper wrote, "I have an adjustable bed; the corners tend to pull off, so I decided to try this product. I have used it for a couple of nights and so far so good. The bed sheet stays put and the corners have not pulled off."
Another Amazon shopper wrote, "Trust me, I am a sensitive sleeper who has been strapping her bed for over 10 years now. I'm tired of replacing cheap straps and having straps pop off and whacking me in the face. This product is definitely a game-changer for me." Pairing the Bed Scrunchie with any of these sheets could change the game.
The sought after Bed Scrunchie is discounted by 40 percent and for a limited time, you can get your own for just $35.95.
Prices subject to change.
This article was originally published on