This Eye Cream Makes It Look Like I've Slept For More Than 5 Hours (Spoiler: I Haven't)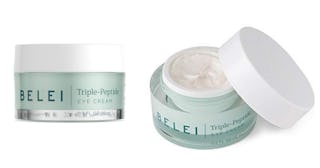 Amazon
Raise your hand if eight hours of sleep sounds like the biggest myth of all myths. I set alarms, I take melatonin, I drink wine, I try to knock out as many tasks as possible before 10 p.m., and I still somehow find myself going to bed late, waking up early, and getting no more than 5-6 hours of sleep a night. And I know my parent friends have it worse than I do, especially with newborns.
RELATED: Can You Overdose On Melatonin? What To Know About This Sleep Aid's Safety
Since I haven't been able to resolve this problem by actually sleeping, I've been able to at least cover up the evidence of the havoc this habit is having on my body, more specifically, my face. I looked T-I-R-E-D. I video-chatted with my parents the other day, and even though the "make me pretty" Zoom filter, my mom told me I looked tired (thanks, Mom). My eyes are puffy, I have dark circles, and I generally look dead inside 24/7. After this conversation, I clicked around on Amazon to find a good eye cream, and came across Belei's Triple-Peptide eye cream. Since it happens to be 20% off, and the reviews happen to be pretty good, I added to cart and with my Prime membership I had it shipped to me in two days.
And okay, wow. I have been writing about beauty products for about six years and have tried a LOT of brands, and this is the only one that actually showed a real difference. With the tri-peptide blend firming up skin, the hyaluronic acid infusing moisture, and caffeine reducing puffiness, Belei's eye-cream made me look well-rested even though I sure as hell was not.
Other details to take note of: This formula is super light (and gives you a nice, matte finish), so you can pair it with your foundation and concealer. A little bit goes a long way, so you don't have to replace your bottle every few weeks. It's also dermatologist-tested and never, ever tested on animals.
If I was too subtle, I'm now explicitly saying you need this eye cream in your life NOW. To get it ASAP like I did, make sure to sign up for an Amazon Prime membership for free two-day shipping. As a Prime member, you'll have access to tons of Amazon deals — including Prime Day! — for only $12.99 a month or $119 a year.
This article was originally published on