This Retinol Moisturizer Is The Only Thing That Fixed My Uneven, Dull Skin — And It's On Mega Sale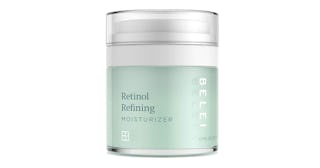 Amazon
Like most humans who can't afford weekly skin treatments from the dermatologist or fancy treatment centers in Beverly Hills, I have very BLAH skin. As in, it's fine if I use foundation and setting powder, but on its own, it tends to get oily, shiny (but somehow dull at the same time?) and splotchy throughout the day. I'm also prone to hormonal breakouts, so hooray monthly acne. I have a skincare regimen (#selfcare) which includes a gentle facial cleanser, toner, serum, and moisturizer — and that's kept my face baseline "fine." But when I heard about Belei skincare and that it offered the same kind of treatment as a lot of pricier brands I'd normally get at Sephora, I got curious.
So I bought a bottle of Belei's Retinol vitamin A moisturizer because it promised to "soothe skin" while squalene and hyaluronic acid "help skin appear smooth and refined." Bingo. That's what I needed. Free from parabens, fragrances, sulfates, phthalates, this formula is gentle and doesn't have any icky ingredients that might irritate my skin. It's recommended to be only used at night, so I started using it after applying my normal toner and hydrating serum. A few days later, my skin legitimately did look brighter and more even — without using any foundation.
Reader, I can tell you that I was able to hop on a Zoom call and not worry about my nose looking too red or my forehead too shiny. I normally have to at least apply tinted moisturizer so that I feel more self-confident on work calls. Plus, it's been three weeks and I haven't even broken out (not even on my period — I know, SORCERY).
Since I know everyone's skin type is different, I made sure to do my due diligence and check out reviews, too. And most of which are super positive. One reviewer wrote, "I used to own a salon spa and I am a product junkie. We carried various skin care lines, most of them retailing for over $100. Not one of those lines compared to Amazon's new Belei line. I ordered two product to try and in two weeks my skin is looking better than it has in years. The tone is much more even and my skin much brighter."
Another wrote, "My skin has changed again, and I have been looking for a new moisturizer. I received this one in a sample set of this brand of products from Amazon and I love it! I have combo skin and this has really kept the oiliness at bay without drying out the rest of my face. It absorbs nicely and provides a great base for my foundation. For me, it has greatly reduced the oiliness in my T-zone. I don't have to blot or apply powder throughout the day like did before. It keeps my make-up looking fresh and semi matte. Warning: your skin must be CLEAN when you apply this or you may get a slight lint-ball effect, as if you just wiped your face with cheap tissue. I've used similar products priced higher and lower than this, and this one is the best I've used so far. I love how my skin looks but especially how it FEELS after using this product!"
Belei has other products you can check out too! Right now, you can get 50% off on the retinol moisturizer if you're a Prime member. If you're not, you can easily sign up for a free trial today. For only $12.99 a month (or $119 a year), you'll have access to tons of amazing Amazon deals as a Prime member — including Prime Day!
This article was originally published on