Instant Pot's 9-In-1 Air Fryer With Almost 30,000 5-Star Reviews Is On Super Sale Right Now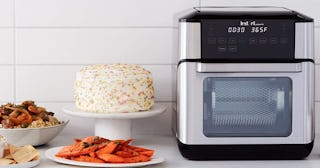 Amazon
So, you're looking for an air fryer. Maybe you read about how awesome they can be for making healthier fried food, or how much more convenient they are than turning on an oven or heating up a pot of oil. Whatever the reasoning behind your soon-to-be-purchase, we welcome you to the air fryer club. It's a good club.
Unfortunately, there isn't just ONE air fryer to choose from — there are like, a billion. And the one you decide on depends on all your needs. Do you want a simple air fryer that solely air fries, or do you want to invest in a multi-purpose cooker? Do you need something more compact, or do you have the space for a bigger device? One of our favorite air fryers we recommend to everyone is Instant Pot's Instant Vortex Pro Air Fryer 9-in-1 Oven. Not only does it let you fry food using way less oil (and is way less messy than the stove), but you can also use it to roast, bake, broil, cook a rotisserie chicken, toast, reheat, proof, and dehydrate.
And unlike an oven, you don't need to wait for it to preheat, which saves time (raise your hand if you've ever been ready to bake something only to realize you never turned the oven on). This 10 qt air fryer can fit a whole chicken, batch of fries, pan of hash browns, and more. With nearly 30,000 5-star reviews (and a 4.7 rating), we have faith that Instant Pot has done it again with another must-have cookware product.
Annnnd it's currently on sale on Amazon for $110!
This article was originally published on