11 Of The Best Baby Books That Won't Make You Groan Before Every Read (You May Even Love Them)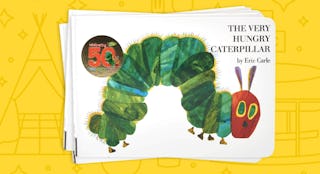 The first year of a new baby's life is filled with many magical moments…and just as many diaper rashes and loads of laundry. But if you value a calm nighttime routine or easy and enriching day time entertainment, then you are going to want to arm yourself with a slew of sweet, funny, and educational best baby books to read to your little one on repeat. Thinking beyond popular television and movie characters is key if you want to help your mini reach some milestones without wanting to throw yourself off a bridge in the process.
From classics that have stood the test of time to new books on the block that will have you laughing out loud, there are a number of great baby books to buy that will become an important part of moving their development along. Look for page turners that encourage interaction, playful voices, and dazzle them with colors or textures. Sure, they don't totally understand what you're saying, but trust and believe they know a terrible read when they hear it. Score these wonderful books for babies and infants and you'll be one pat on the back closer to feeling like a pro parent.
Best Interactive Book
Best Lift the Flap Book
Best Classic Story Retold
Best Book That Will Make You Cry
Best Pet-Friendly Book
Best Relatable Adventure Book
Best Off-Beat Story Line
Best Bedtime Book
Best Nighttime Routine Book
Best Colorful Book
Best Black and White Contrast Book
Check out our selection of the best baby books so you can read in the new year in style.
This article was originally published on