There's No Avoiding It: Your Baby Wants A Bouncer. Give 'Em One Of Our 12 Best Activity Centers.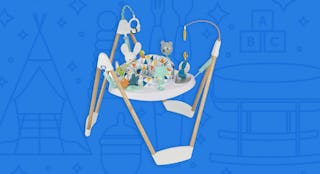 If we're being honest, one of the best baby gifts we've received (yet somehow failed to register for) was a huge, hideous baby bouncer. It was green. It was garish. It had lights *and* sounds. But while feeling significantly less than neutral about it, bb was absolutely overjoyed (not an understatement) at the prospect. Seeing his little face light up as soon as he was placed inside that monstrosity made all the lost floorspace worth it.
RELATED: These Baby Rockers Will Rock Your World (And Make Your Little One Chill Out)
In truth, bouncers and activity centers are a godsend. Little ones between the ages of 6-12 months are super curious and eager to experience the magic that is cause-and-effect, and who are we to deny them this specific joy? Plus, bouncers keep your LO entertained while also keeping them from getting into stuff, which means you can actually get something done using both of your arms (what a concept!). Just keep them under close supervision, ofc.
Once your babe can sit up on their own, it's time to upgrade from that tummy-time floor mat anyway. Bouncers can be a smart way to offer a little stimulation—that doesn't require you to personally provide. "From a developmental perspective, we love baby gear that is multi-faceted," says Monica Banks, CEO and founder of Gugu Guru, a baby product concierge service. Seek out multifunction gear that can engage your baby with lots of different activities, she notes, and is customizable and/or adjustable depending on baby's age and stage. And because we're all about minimalist parenting, "look for a jumper that can fold up and store away quickly and easily," she adds. Out of sight, out of mind.
Luckily, there are tons of options in the baby gear realm that do just that—and more. If you're in the market for an activity center that your little one will adore (even though you, um, might not), we've found the best baby-approved bouncers and jumpers around.
More baby gear your kiddo is sure to adore right here.
This article was originally published on