Open Wide! The 15 Best Baby Feeding Spoons That Will Simplify the Transition to Solids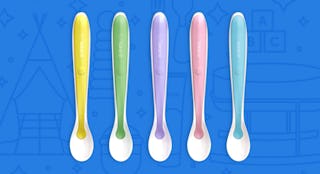 Once your little is ready for solid or semisolid foods, things can, nay, do get messy. Like really messy. On top of that, baby mouths are small and delicate, and gums bruise easily, so you can't just use any old utensils. Stocking up on specially-designed baby feeding spoons will not only save you some post-mealtime cleanup but potentially, some tears, too. (Oh hi, have I got your attention yet?)
Truth be told, there are some pretty ingenious options out there. It's not just about choosing small-sized baby spoons when transitioning to solids. Silicone tips are a godsend (and kind of the gold standard in this category), as are features like choke shields, easy-grip handles, squeeze feeders, click-on food-pouch tips, germ-resistant and eco-friendly materials. Many baby feeding spoons are designed for feeding on the go because it's 2021 and you've got sh*t to do, and there's even an option that supports motor development (and is recommended by occupational therapists). These are most definitely not your grandma's utensils and honestly, thank freaking goodness.
Regardless of whether you're diving into purees for the first time or prepping your mini for self-feeding, we've found the best baby feeding supplies for you and yours. Shop baby feeding spoons for every kiddo's needs ahead–and let the fun begin!
Picked out the perfect baby feeding spoons for your bebe? Bon appetit! Now feast your eyes on some other essential baby gear buys you'll wonder how you lived without.