Get Ready For BB To GUAC Out With This Deliciously Adorable Baby Guitar And Other Musical Instruments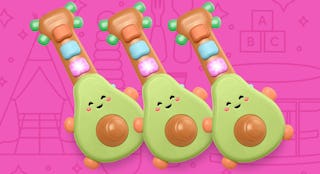 Hearing is one of the first senses our little BBs develop. So it makes perfect sense that music and soothing sounds are a favorite from the very beginning. Besides developing those tiny ears, music can help with creativity, language development, memory, and emotional intelligence. Plus it's pretty cute when they start bobbing their heads or shaking their booties to the beat.
We've rounded up some of our favorite baby music toys to help you start 'em young. We've got everything from mini guitars to portable light-up music boxes and even a microphone that they can rattle and use to belt out those cute little squeals.
Looking for more sensory baby toys? Check out Scary Mommy's toy recs for all your BB needs!