Stress-Free Manis For BB? Get The Best Tools To Make Clipping Those Teeny Nails As Easy (And Scratch Free) As Possible!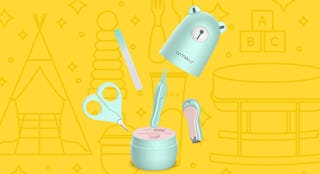 There's a lot to worry about as a new parent (understatement of the century?), but trimming tiny baby nails might be one of the most unexpectedly terrifying tasks. Not only are infant fingernails super small and hard to see, but you're also not exactly working on a willing mani client. One wrong snip and here come the tears—from both you and baby. That's why you need the best baby nail clippers you can find. Anything to make things less stressful, right? Right.
Because baby nails grow freakishly fast, avoiding the anxiety by just ignoring your nail-clipping responsibilities isn't an option, unfortunately. Those little suckers are also sharp AF-and can scratch your babe with just one jerky, squirmy motion (the kind infants are known for). It has to be done and yes, you can do it— especially when you've got the right tools, like baby nail scissors, clippers, and files that make seeing–and trimming–easier for both of you. That's where we come in.
Ahead, we've rounded up the best baby nail clippers and scissors. With the proper grooming gear, you can keep your kiddo's nails short, his/her face scratch-free, and maybe–just maybe–have one less thing to worry about. Scroll on to shop tools that will trim baby's nails–and your anxiety–ahead.
Basic, not-so-basic nail cutters:
If you just can't clip, file. These electric trimming options file down the nails— it's much less scary than snipping:
Found the best baby nail clippers for your mini's mani? Phew. Now check out even more stress-relieving baby gear buys here!