The 10 Best Walkers to Get BB Moving in the New Year
by Steve John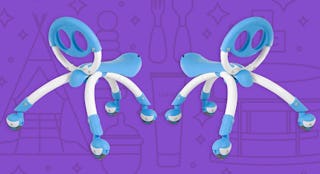 How did so many of us make it to adulthood and produce children of our own what with all the dangerous sh*t our parents used when raising us? There were the cribs with drop sides, Bumbo seats, BPA bottles, crib tents and bumpers (EEK!).
And then of course there were those baby walkers. You know, the wheeled saucer-shaped deals with the inset seat that babies can scoot all around the kitchen, den, and right toward the stairs…
Yeah. Those. Doctors have been worried about that kind of walker since the 1980s, in fact an article published by the American Academy of Pediatrics back in 1987 stated: "There are an estimated 24,000 injuries per year requiring medical assistance caused by trauma secondary to the use of infant walkers. These devices do not add anything positive to the infant's development as they teach a child how to ride, not how to walk."
Long story short, without constant and unblinking supervision, those things are crazy dangerous. But…the new generation of baby walkers, that the kid controls themselves while standing on their own two feet— these can be great. Think push, pull, walk, and ride all versus sit "inside".
A kid should only be as mobile as they're able. When they can roll, let them roll. When they can crawl, let them, crawl. And once they can take a step or two, go ahead and let them grab one of these great baby walkers we've found. The walkers on our rundown are safe, stable, and will help your little one master balance, build core strength, and have plenty of fun while toddling about, too. We've got infant walkers, activity walkers for babies, toddler-ready selections, and walkers that can even be ride-on toys.
Cuteness is afoot. Get your camera ready. Or your phone, I mean.
Need more great stuff for the little guys? Check out some of our expert recommended baby gear.
This article was originally published on