13 Essential Beauty And Grooming Products You Need On Repeat — Subscribe & Save With Amazon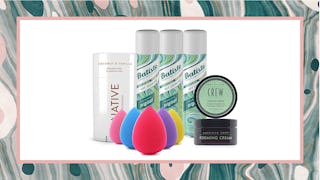 One of the first things we discover as new moms is the feeling of being pulled in approximately 1,513,538 directions — between trying to take care of these tiny humans, the house, the job, our friendships, and, oh right, ourselves, life gets overwhelming, real super fast. So how do we manage? Not well, at first, but by quickly realizing that prioritizing was key. And, unfortunately, mundane errands like going to CVS got pushed to the bottom of the list, taking things like "making sure we have enough deodorant to get us through the week" and "looking presentable as a mom" down with it. (We know, we know, these are the best days of motherhood.) And we're not even mentioning what happens when our husband runs out of body wash — it ain't pretty, ladies.
Enter Amazon Subscribe & Save, the saving grace beauty and grooming subscription service for mamas who don't have time to make it to the store, and most definitely don't have time to think about what they need to buy, anyway. Not only does it offer all the shipping benefits of Amazon (all hail the two-day diaper delivery), but with a few quick clicks, Subscribe & Save, as the name implies, lets you program regular, recurring deliveries of the same items however often you want, and at a discount to boot (and beyond for Prime members). Like, what, how did people survive pre-internet? How did we survive pre-Amazon? There are tons of brands and products available, too, so you'll likely find all your favorite things, and since it's easy to cancel (or press skip), your deliveries can change as quickly as your kiddo's mood. You don't have to thank us now, thank us when the delivery arrives. Every month. Or now. Whatever.
Best for Maintaining That Mane
Best for Looking *100*
Best for Keeping Your Beau's Face Fresh
Best for Being Bright-Eyed (and Bushy-Tailed?)
Best for Faking That Showered Lewk
Best for an Eyebrow Edit
Best for His #HairGoals
Best for Facial Finesse
Best for Max Moisturization
Best for a Blinding Bite
Best for Going on a Blender Bender
Best D.O for the B.O
Best for Your Husband's Hygiene
And now that, no doubt, your shopping mojo is flying high, check out more Scary Mommy beauty picks for must-have products you need (and, frankly, deserve).