10 Awesome (And Powerful) Blenders Under $100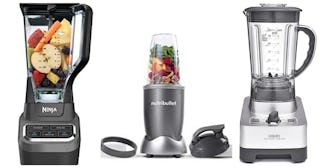 Walmart/Amazon/Bed Bath & Beyond
If you're looking for budget-friendly blenders, it is possible to find great blenders under $100. While you've probably heard about brands like the Vitamix and Ninja, they tend to be really pricey, and they aren't even necessarily better than blenders that are more wallet-conscious. But the key here is to do your research and find which blender is best for your needs and lifestyle — the same goes with pretty much all kitchen tools and appliances. We're here to make your blender shopping journey just a little bit easier by rounding up all the best ones under $100, and we've done the research for you.
Whether you're looking for a countertop blender to purée soup for the whole family, a handheld immersion blender to stir up a side of sauce or salsa, or a personal blender to whip up a healthy smoothie (or a slightly less healthy frozen cocktail) stat, here are 10 of the best options.
Countertop Blenders
Immersion/Hand Blenders
Personal Blenders
For more products to help around the house, check out our other Home & Kitchen picks.