16 Best Building Toys For Kids Of All Ages, According To Experts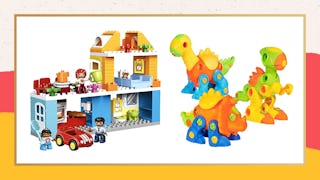 Anyone can go into a toy store and get the hottest new action figure or toy, but it takes a bit more research to find toys that inspire imagination and visual thinking in kids of all ages. Enter STEAM toys! Standing for science, technology, engineering, art, and math, STEAM toys all share a similar approach and focus on skill building. Even infants explore their world and learn these concepts from an early age, and as children grow, they learn a ton from interacting with their world as well as they do from STEAM-specific toys.
RELATED: Alexa, What Are The Best Robot Toys?
That being said, there are absolute oodles of STEAM-type toys that can further expand your child's playtime, and building toys are excellent examples for your budding learner. "Building toys are great," notes Claire Green, president of the Parents' Choice Foundation. "They sharpen fine motor skills, problem-solving, creativity, and vocabulary. If you're absolutely dying to put a STEAM label on one class of toys, building toys would be it."
With all these recommendations in mind, Scary Mommy has curated the best building toys to make gift-giving a snap for kids of all ages.
For more gift inspo, check out our gift guides for 1-year-olds, 2-year-olds, 3-year-olds, 4-year-olds, 5-year-olds, 6-year-olds, 7-year-olds, 8 year olds, 9 year olds, 10 year olds, 11 year olds, and 12 year olds.
Magnetic Building Blocks
RELATED: We're Positive These Are The Best Magnetic Toys
Magnets and young kids don't ordinarily go together, but 2- and 3-year-old kids benefit from learning about magnets as long as they're enclosed within large, colorful blocks. These toys combine the interest (and science) of magnets with the delight of building blocks, says elementary school teacher Nancy Poznansky. "The pieces are large enough that they won't go into a 2-year-olds mouth, and because the magnets [are] much easier to build up," she says. "These are better than blocks because the children won't hurt themselves or each other, and at 2 [years old], there is a particular developmental interest in the fun of knocking whatever they have built down — in any direction. They are interested in building different structures and seeing how high they can build something. The magnets will help make it all work. Frustration, especially with fine motor coordination, can be an issue at this age, and the magnets make it more playful and prevent those problems from getting in the way of the building experience."
Early Construction Sets
Toddlers will also enjoy other types of building sets, says Green, which help with spacial awareness and engineering strategies. "It's no secret that toddlers are smitten with LEGO® Duplo, Mega Blocks and Keva planks – they pack in a lot of playful learning," she explains.
RELATED: The Best LEGO Storage Ideas To Save Your Feet And Sanity
Preschool Kids First Building Sets
"Eager preschool builders will go far with the Thames and Kosmos 'Kids First' preschool series where storybook plotlines are the impetus for building airplanes, automobiles, and amusement parks," notes Green, who likes them for their hands-on engineering take on crafting a toy.
Simple Building Toys with a Goal
There are plenty of building sets for older kids, but a Build-A-Dino set is perfect for younger kids, says Poznansky. "This is a perfect starter for 4 and 5 years olds, since it meets skill level with interests," she explains. "Boys and girls at this age love dinosaurs. The pieces are comfortable and great for small hands — and the first use of this plastic screwdriver gives them a real sense of accomplishment. Plus at the end, they have made themselves a colorful, movable T-Rex."
K'nex Construction Sets
"A non-gender-specific building set is ideal for ages 7 to 15+," says Adina Mahalli (MSW), a certified mental health expert and family therapist for Maple Holistics. "This building toy is limitless for the imagination with interchangeable pieces. At any age, the sets allow for freedom of creativity and comes with a booklet for older kids that gives instructions on how to build many unique toys and figures. The sets are also expandable, allowing your child to create more things and reinforce the skill of following directions."
Circuit Blox
"Circuit Blox are building bricks that can be configured to conduct electricity," says Green. "Appealing, well priced and (wait for it) compatible with other building bricks, this set sparks learning, creativity and fascinating discussion."
GraviTrax
Another offering for kids 8 and up is the GraviTrax system from Ravensburger. "The sleekly designed GraviTrax system has young engineers and imagineers building innovative race tracks as they experiment and learn how the laws of physics (gravity, magnetism, and force) work as the track configurations change," says Green.
Although we only recommend picks we really love, we may earn a commission on purchases made through links from our site.