8 Classic Books To Read Aloud As A Family— Guaranteed #qualitytime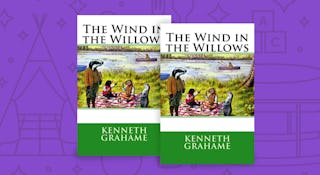 We're bored as hell and so are our kids. How are we out of things to stream? We've recently ransacked our bookcases (and Amazon) in an effort to find classic books guaranteed to enthrall our LOs (and not so little ones). There is nothing sweeter than snuggling up to our babies (okay pre-teens) and sharing a moment at bedtime (cringy as it may be mom).
RELATED: 10 Best Bookshelves For Little Readers (And Their Mamas Who Love To Clean Up)
Jim Trelease, the author of The Read Aloud Handbook, encourages reading aloud to children of all ages even after they have learned to read themselves. Jim writes, "When we read to a child, we're sending a pleasure message to the child's brain. You could even call it a commercial, conditioning the child to associate books and print with pleasure." A pleasurable experience with our kids who are otherwise driving us crazy? Sign us up!
When they were babies we would read every night. As they've gotten older we relish being able to send them off to read on their own leaving us some precious "me" time. Why not bring back the time honored tradition of family read aloud and make it "we" time? Crack open some good old fashioned books (or the Kindle editions) and read together. These classics were written as books for kids, but have stood the test of time as books for families to enjoy reading together.
We've curated a list of classic books to read with and to your children. Think of this as a jumping off point rather than a comprehensive list. Enjoy a return to your childhood while lulling your not so littles (and probably dad as well) to sleep!
Best Books For Kids Ages 5-8
Best Books For Kids Ages 8-12
Looking for more great family fun ideas? Check out all of our favorite kids gear!
This article was originally published on