People Are Obsessed With These Compression Leggings On Amazon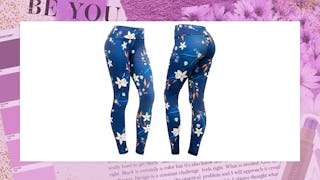 From crushing your leg day workout (probably at home, nowadays) to sporting an athleisure look when you're out and about, the perfect pair of workout leggings can keep you comfy and (dare we say?) inspire confidence. When it comes to fit, feel, and style, compression leggings are our leg wear of choice, especially when it comes to a hardcore sweat sesh. That's because these stretchy miracle workers make the recovery process so much easier by improving blood circulation, reducing swelling, cutting down on soreness, and helping you feel way less tired post-workout.
They also have the potential to be super comfy and super fashionable so they can be worn as loungewear and grocery store attire, too. Better yet, there's no shortage of options; you can find compression leggings for women or men, in standard or plus sizes, and in an array of different styles, materials, and colors. So whether you're headed to the gym for a high-impact workout or your yoga mat for a meditative stretch, some fresh new leggings will up your workout (or errand) game. So, we've rounded up some of the cutest, highest rated, and most affordable leggings you can buy on Amazon because you deserve a clothing refresh without breaking the bank.
Best Non-See-Through Leggings
Best Versatile Leggings
Best Staple Black Leggings
Best Leggings With A Pocket
Best Budget Leggings
Best Anti-Chafing Leggings
Best Odor-Reducing Leggings
Best Leggings For Working Up A Sweat
Convinced it's time for some new compression leggings? You'll love our other mom-approved wellness and fashion picks, too!
This article was originally published on