The Best Down Comforters To Keep You Warm All Fall Long
by Jenn Sinrich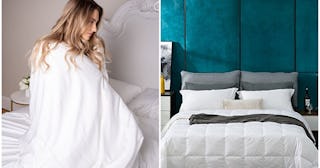 Image courtesy of brands
Back in your younger days, a comforter was just a comforter—something you slept with that kept you warm throughout the night. It wasn't much more complicated than that. Fast forward to you in your older and now parented age and your demands in the comforter sector have likely sky rocketed. Let's put it bluntly: If there's one thing you're not willing to sacrifice on it's good sleep (order that pregnancy pillow you're debating getting—trust us). That's where the world of down comforters comes into frame. They give you that luxurious, hotel-like slumber that you so desperately need and deserve.
RELATED: 9 Super Cool Bedding Essentials For Hormones & Hot As F*ck Summer Nights
What is a down comforter?
You know those light and airy comforters that basically feel like a giant pillow? Those are down comforters. The high-quality ones are usually filled with real duck or goose feathers, although there are plenty of vegan/hypoallergenic options available as well.
RELATED: 18 Best Loft Beds To Maximize Space And Make Bedtime — Dare We Say? — More Fun
What to consider when shopping for a down comforter
In addition to choosing the material inside, you'll also want to be choosy when it comes to fill power—aka the insulation quality of the down comforter. This can range from 500-700+ and will inevitably translate to how warm the down comforter keeps you overnight. If you live in a warmer climate, definitely opt for a lighter fill power, but if you live in the Northeast, for example, which gets pretty cold in the winter, you're going to want to up the ante on your fill power.
Ready to shop down comforters? Check out some of the best-selling downs below.
The best lightweight down comforters (because we know it's still hot some places):
Best overall down comforters:
Looking for more home upgrades? Check out these mom-approved steals.
This article was originally published on