Tinted Moisturizers Are A Great 2-In-1 For Busy Mornings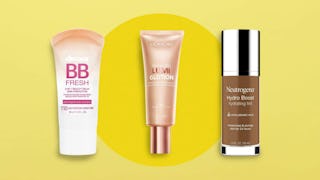 Drugstore tinted moisturizers are a beauty must-have for mamas who do it all. Yes, moms have superhuman powers— we all know it— from the ability to calm crying babies to making the house look livable despite piles of toddler toys clustered around the house. But waking up with every worry wrinkle, blemish, and dark mark of exhaustion fully concealed? Now that's something even Mom of the Year has yet to master. Luckily, when it comes to perfecting a complexion, the best drugstore tinted moisturizers can multitask, kinda like you, Mom — except there's no real comparison, of course.
Finding the right tinted moisturizer that will save you money and time can help you look flawless on a dime (especially if your wallet simply can't handle purchasing a new tube of Laura Mercier or Nars). It'll also provide sheer coverage and keep your skin moisturized feeling quenched. Whether you're on the hunt for a lightweight BB cream or a tinted moisturizer with SPF, we've curated the best drugstore tinted moisturizers that won't break the bank. Below, are favorite recommendations plus a few more answers to FAQ:
Why do moms need a tinted moisturizer?
Tinted moisturizer is a multi-faceted product that will nourish your skin, smooth over any impurities, give you light coverage, and leave you feeling fresh-er in every sense of the word. And whatever your daily mommy duties are, chances are mornings can be the most hectic time of day. Why not invest in a one-stop-shop, so you don't have to spend extra minutes in front of the bathroom mirror?
How do moms apply drugstore tinted moisturizer?
All you'll need to apply tinted moisturizer evenly are clean fingers. Steal 30 seconds with soap and water before heading to daycare. Dot a few drops of the product onto your face, focusing on under-eye circles, and gently dab for even application. Need to look more awake? Pick a product that adds a dose of glow versus a matte option.
Whoever said you need an Instagram-worthy vanity to get effortlessly glam was never a mom. Here are our favorite drugstore tinted moisturizers.
The Best Drugstore Tinted Moisturizers
This article was originally published on